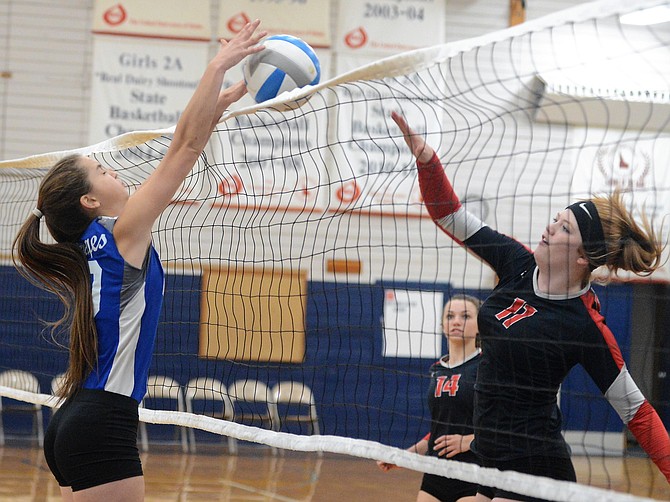 Photo by Andrew Ottoson
Salmon River's Chevelle Shepherd had a series of solo blocks early in the match that decided the Grangeville Tournament, which the Savages went on to win in two sets over Prairie. Hitting at right is Prairie's Josie Peery, whose play in the middle of the front row helped the Pirates reach the tournament final.
(Check back later for results. To report a score, text 208-507-0675, Facebook us, or e-mail us. Complete score sheets received by 10 p.m. will be written up tonight.)
Reader poll
Dressing up 17%
Powderpuff games 17%
Parade 17%
Football night 50%
Crowning the King & Queen 0%
6 total votes.
Football results
Friday, Sept. 15
Grangeville 42, McCall 8
Salmon River 46, Notus 0
Clearwater Valley 54, Timberline 0
Prairie 60, Council 8
Soccer results
Saturday, Sept. 16
Girls: St. Maries 7, Grangeville 1
Boys: St. Maries 4, Grangeville 0
Volleyball results
Saturday, Sept. 16
Grangeville Tournament
First place: Salmon River.
Runner-up: Prairie.
Pool A:
Grangeville def. Clearwater Valley 2-0 (25-12,25-11)
Salmon River def. Logos 2-0 (25-15,25-20)
Logos def. Grangeville 2-0 (25-19,27-25)
Salmon River def. Clearwater Valley 2-0 (25-10,25-9)
Salmon River def. Grangeville 2-0 (25-12,25-9)
Logos def. Clearwater Valley.
Pool B:
Summit def. Kamiah 2-0 (25-23,25-8)
Prairie def. Nezperce 2-0 (25-18,25-10)
Nezperce def. Summit 2-1 (22-25,25-17,15-13)
Prairie def. Kamiah 2-0 (25-15,25-18)
Prairie def. Summit 2-0 (25-13,25-13)
Summit def. Nezperce
Bracket:
Summit def. Logos
Grangeville def. Nezperce
Prairie def. Summit
Salmon River def. Grangeville
Salmon River def. Prairie 2-0 (25-14,25-17)
Cross-country results
Saturday, Sept. 16
Seaport Invitational at Clarkston
Varsity
Girls
Teams: 11, Prairie 217 points.
Individuals (83 finishers):
5, Melanie Gianopulos (CV) 19:53.78.
Boys
Teams: 8, Clearwater Valley-Kamiah 221 points.
Individuals (120 finishers):
17, Michael MacMenamin (K) 17:27.49.
It's homecoming week in Grangeville and Riggins, and Grangeville's parade departed GHS for Heritage Square at 10:45 a.m. Activities are set to continue at the GHS football field at 1 p.m.
During the playoffs a year ago -- the last time Grangeville played McCall -- the game went to overtime. And, from the Free Press archive, here's how that turned out:
All eyes were on Noah Kaschmitter after reserve quarterback Chad Simmons scrambled into the end zone with a vengeance on the second-to-last play of Grangeville's 29-28 overtime triumph Friday night, Oct. 28.

Kaschmitter had been the main man the Bulldogs turned to when in need of a few yards, and Grangeville coaches and players later said they had indeed called his number.

But after McCall got a look at the formation Grangeville brought to the line of scrimmage for what would either way be the decisive two-point try — succeed and win and the season continues, fall short and lose and the season's over — the Vandals called time out. That's when GHS offensive mastermind Jeff Adams petitioned the players with a different idea: would they hand off to Luke Stokes instead?

The Bulldogs took ownership of that idea, head coach Jeff Lindsley said, and they blocked it perfectly. Stokes said that he had two things to look for — and though he saw the lane to the outside open up as expected, he had one tough final yard to get. One of the key blockers on the play — Justin Fogleman — shoved a would-be tackler into the end zone, and Stokes, in the McCall player's grasp, went with him.
For a bit about how it went the last time Salmon River played Notus, look back to 2011. From the Free Press archives:
When Salmon River's most imposing player, Ethan Couie, went down with a potentially major injury on the fourth play of the game Friday night, Aug. 26, the Savages rallied to a 42-32 victory through furious offense provided by Charlie Shepherd and Jimmy Shepherd. ... The third time they connected, the Savages had the lead for good. Then Leighton Vander Esch delivered a touchdown pass to each one: a 17-yarder to Jimmy and a 20-yarder to Charlie.
Nowadays, Vander Esch is famously leading the Boise State University defense.
In other sports news, at Salmon River High School, they're looking to honor SRHS alumni who went on to military service. From SRHS:
We would like to recognize the Salmon River Alumni who have or are serving in the armed forces. If you know anyone who has ever served in the armed forces, please contact Mr. Doramus at the school. We would like their name, the year they graduated from SRHS and what branch of military they served in. Our goal is to list these individuals on a banner to be displayed at the schools.
Judging by last week's reader poll, the Pirates' parking space fundraiser attracted little notice -- but it did raise big bucks toward new bleachers. PHS football coach Ryan Hasselstrom told the Free Press the team's coaches started organizing the fundraiser in mid-August, and said the auction of nine parking spots raised about $2,700 toward the $25,000 expected cost of new bleachers. "Our community has been very generous about this kind of thing," Hasselstrom said. "We're going to do a raffle for a half-beef, a rifle and some cash prizes. We hope to make about $5,000 on that."
This week's reader poll, about favorite homecoming activities, can be found toward the top of this post.
WHERE WE'LL BE
GRANGEVILLE - With McCall in town for homecoming -- the second time this season GHS will play a school within the 2A classification -- the Bulldogs may smell blood. But McCall proved a dangerous opponent last fall, claiming a 16-9 win on the strength of big plays by Ben Knudson, who is a senior this fall. The Vandals are 1-1 with a 24-20 win over Orofino in Week One and a 29-15 loss to Weiser Week Two, and they're coming into this game fresh off of a bye week.
MORE TO SEE
In Riggins, Salmon River is set to host Notus in a cross-classification game between the reigning Long Pin Conference champion Savages and a squad that has been blown out by two Long Pin teams so far this season. Having been rocked 64-14 by Garden Valley and 70-16 by Tri-Valley, Notus may have its hands full against a squad stung by a loss last week at Prairie.
At Weippe, Clearwater Valley will play a squad the Rams haven't lost to since a 26-22 stunner in 2015. With a couple of pride factors in play last fall, the Rams avenged that loss with a 60-12 blowout win capping their 2016 homecoming week.
In Cottonwood, Prairie is set to host Council.
ERRATA
Yesterday's edition of Preps Beat Journal (linked as "previously" below) overlooked two sporting events on the schedule. One -- the CV-Timberline volleyball match -- went off last night. The other -- the Seaport Invitational cross-country competition -- is now listed. Whenever there's any local sports news we've overlooked, please let us know via any of the contact information up top.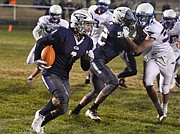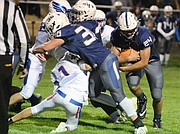 RESULTS
Bulldogs maul McCall
GRANGEVILLE - For the second time in as many games against teams in their classification, the GHS boys had a blowout win. If they had been stung by a couple of earlier losses to larger schools farther north, the Bulldogs showed no sign of any ill effects in their second game against a squad from parts south, downing McCall 42-8 on Friday night. Head coach Jeff Adams pointed to defensive coordinator Chad Hill's adjustments, which stemmed McCall's attack after the first quarter, as one of the key differences in the game.
The Bulldogs had seized an early lead, 7-0, on a Noah Kaschmitter run of three yards.
McCall struck back on 14-play drive that tipped the lead to the Vandals, 8-7, after a penalty before the point-after kick gave the visitors an easier crack at the two-point conversion, which Kaden DeLuna pounded into the end zone, having barreled in from 11 yards out for the touchdown.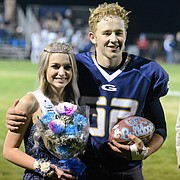 Afterward, it was all Grangeville.
Booker Bush scored on a short pass with 7:11 left in the second quarter, then Brandon Stump scored on a 53-yard catch-and-run just before halftime. Stump snared a deep throw from Tescher Harris with his right hand, then stiff-armed away one tackler, pushed away another and stepped out of a third on his way to the end zone 1:09 before the second quarter expired.
"He would not be denied," Adams said after the game. "Maybe that was because of an unsportsmanlike conduct penalty he had that killed one of our drives. His mouth screwed his teammates and I let him know it, and I think he felt he owed the team -- and he wouldn't be denied. I put a lot of emphasis on Booker and Stump in my offense. We've got some other kids who are starting to rise to the occasion, like [Chase] Adkison and [Blake] Darr, but after I had a little chat in the second quarter with my offensive line, they fixed some things -- and this offense will go as far as the offensive line. The pass protection got better and there's one kid I'm really impressed with. That's Garett Malone, because it was a huge task for him tonight. To make my offense work, Garett Malone had to handle DeLuna -- 6-foot-6, 218, good football player -- and Malone did phenomenal. It's homecoming night and he got homecoming king, but I tell what, he played very well tonight."
Kaschmitter scored again early in the third quarter, on a 12-yard run, then Harris fired a 34-yard touchdown strike to Adkison. GHS led 36-8 through three quarters, and made the final score by way of a 42-yard touchdown run by Bush.
"We had fun tonight -- I haven't felt this good all year," Adams added.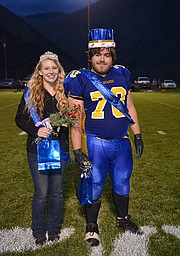 Savages smash Notus 46-0
RIGGINS - Salmon River crowned its homecoming royalty and hammered Notus 46-0 Friday night, Sept. 15. We'll have details in print on Wednesday.
Prairie thunders Council
COTTONWOOD - There was no second half Friday night at Prairie High School, where the Pirates blew out Council 60-8 in what head coach Ryan Hasselstrom called a "gross" game.
"Our kids executed well on offense and played aggressively on defense," Hasselstrom said. "There was no pace or flow to the game. We were up 60-8 at halftime and Council didn't want to play the second half."
The Pirates amassed 302 yards on 28 plays -- an average of 10.8 per pop on the offensive side. The touchdowns were as follows: Derik Shears scored on a one-yard run; Jacob Stubbers scored on a 12-yard run; Caleb McWilliams scored on a 50-yard punt return; Damian Forsmann scored on a 3-yard run; Council's Brett Rosengrant completed an 82-yard touchdown pass to Lance Nichols; Hunter Chaffee scored on a 36-yard run; Shears scored on a 2-yard run; Forsmann threw to Nick Mager for a 31-yard touchdown; and Forsmann threw to Jace Perrin for a 15-yard touchdown.
Clearwater Valley blanks Timberline
WEIPPE - The Kooskia boys posted a 54-0 win over Timberline Friday night, Sept. 15, on the strength of 487 rushing yards. They scored 22 points in the first quarter, eight in the second, 16 in the third and eight in the fourth -- and did not yield a score to a squad that dressed only nine players.
"The next two weeks will be a big challenge," Rams head coach Roger Whalen said. "We got Lane Schilling back tonight after he missed the first two games of the season, and he gave us a lift."
Schilling rushed for four touchdowns and Bubba Summers rushed for another -- and with 14 carries apiece, those two backs split the workload in Whalen's option offense.
Photo Gallery
Grangeville Tournament 2017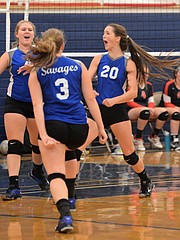 Savages win Grangeville Tournament
GRANGEVILLE - During the last of five matches the Salmon River girls won, in a total of 10 sets, during the Grangeville Tournament, Salmon River front-liner Chevelle Shepherd had a series of solo blocks that staked out a 6-0 lead for SRHS, prompting a Prairie timeout. The Savages led that game by as many as 10, and went on to win the finale 25-14, 25-17.
"It's a tournament early in the season and the girls are hungry," Salmon River head coach Paula Tucker said. "I hope they can sustain it. As a group they really played together well and having the freshmen and all the young girls playing that strong was good. They had a couple of mental letdowns, but they're pretty good about closing that gap."
Gomez scores one for Grangeville
GRANGEVILLE - St. Maries allowed just one goal during the two soccer games played today at GHS, with the Bulldog boys falling 4-0 and the Grangeville girls on the short side of a 7-1 final score. The brightest moment for the home team came early in the girls game, when Brenda Gomez halved what was at the time a 2-0 Lumberjacks lead with an outstanding play off of a corner kick. Naomi Connolley sent the initial strike toward the far side, where Gomez controlled it with her head, then volleyed a left-footed shot past the St. Maries keeper.
The GHS girls created a multitude of other opportunities during the first half, but were once again attrititioned out by a team that deployed greater numbers. They went to the break down 3-1, but had more trouble with St. Maries' size and numbers advantages during the second half.
The boys trailed 2-0 at halftime and ultimately lost 4-0. During the first half, one of Grangeville's most skilled offensive players -- Amador Perez -- was cautioned following a collision he visibly tried to avoid having with the Lumberjacks' keeper.
Gianopulos, Sams run in the 19s
CLARKSTON - Clearwater Valley and Kamiah are cooperating for cross-country this fall. Melanie Gianopulos, who placed eighth in the 3,200 at the state track meet last spring, took fifth in the girls varsity race during the annual Seaport Invitational on Saturday, Sept. 16. She finished the 5K course in 19 minutes, 53 seconds. On the boys side, Kamiah's Michael MacMenamin placed 17 with a time of 17 minutes, 27 seconds.
Prairie runners also competed, with Anthony Karel finishing the boys race in 20:32. Three PHS girls finished their race in less than 24 minutes: Maria Schmidt, Ciara Chaffee and Kendra Duclos.
<< PREVIOUSLY
NEXT >>