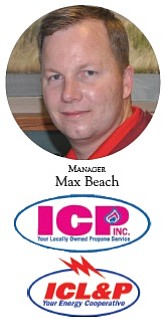 What is it like to be part of an electric cooperative like ICL&P?  Last month, members received information in the mail about the Discounted Early Capital Credit program.  This program allows our members the choice to receive the current value of their 2016 capital credits on their December bill, or wait and receive the full amount in the future (currently 35 years). 
We have had many members opt into the program and it's completely voluntary.  However, the deadline of Oct. 15, 2017 is fast approaching to make the decision. 
This is an option that our membership has not had before and we listened to their comments and suggestions.  Since we are owned by the members we serve, any dollar above what it takes to operate each year is allocated to our membership and will be paid back over time.   Those funds are then invested into the electric system to better serve the needs of our membership.
This is why being a member of an electric cooperative is so special.  We have returned more than $820,000 in the past 10 years and more than $2 million in total.  Idaho County Light & Power, locally owned and operated since 1938.
Neighborhood Experts: Idaho County Propane