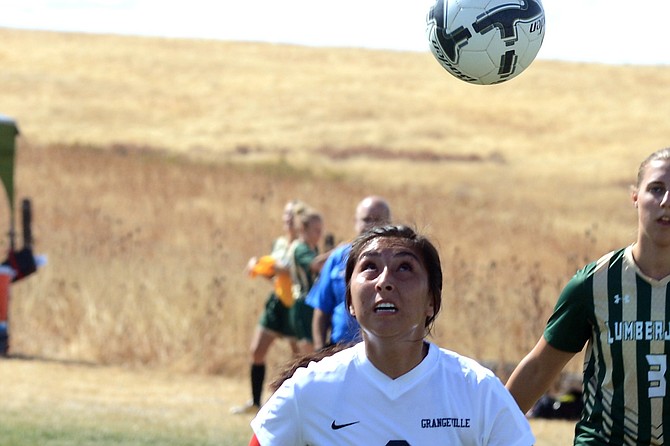 Photo by Andrew Ottoson
Grangeville's Brenda Gomez finished off this header with a left-footed strike good for the only goal during the Bulldogs' 7-1 loss to St. Maries on Saturday, Sept. 16.
St. Maries allowed just one goal during the two soccer games played today at GHS, with the Bulldog boys falling 4-0 and the Grangeville girls on the short side of a 7-1 final score. The brightest moment for the home team came early in the girls game, when Brenda Gomez halved what was at the time a 2-0 Lumberjacks lead with an outstanding play off of a corner kick. Naomi Connolley sent the initial strike toward the middle of the box, where Gomez controlled it from the air to the ground at her feet, then fired a left-footed shot past the St. Maries keeper.
The GHS girls created a multitude of other opportunities during the first half, but were once again attrititioned out by a team that deployed greater numbers.
Grangeville went to the break down 3-1, but had more trouble with St. Maries' size and numbers advantages during the second half.
Against St. Maries, the boys trailed 2-0 at halftime and ultimately lost 4-0. During the first half, one of Grangeville's most skilled offensive players — Amador Perez — was cautioned following a collision he visibly tried to avoid having with the Lumberjacks' keeper.
Earlier in the week, Perez scored a couple of goals and lifted the Grangeville boys to a win, 3-2, Sept. 12 at Orofino.
The victory marked the second win of the season for the boys.
"On the first one, Amador dribbled through and with a nice cross shot scored," GHS head coach Joel Gomez said. "He's on fire."
For the second of the day, Aidan Acton passed to Emilio Barela, who buried it in the bottom corner.
Leading 2-1 at half, Grangeville allowed the tying score about 10 minutes into the second half. About 10 minutes later, Perez broke the tie with a play similar to the one he notched in the first half.
"Amador did basically the same thing as on the first one," Gomez said. "He dribbled through the left side and with a cross shot scored the winner."
Coming — Grangeville is scheduled to play three games Saturday, Sept. 23, at Kellogg, with the girls to play the hosts at noon and to play Bonners Ferry at 4 p.m.
The boys are slated to play Bonners Ferry at 2 p.m. that day.