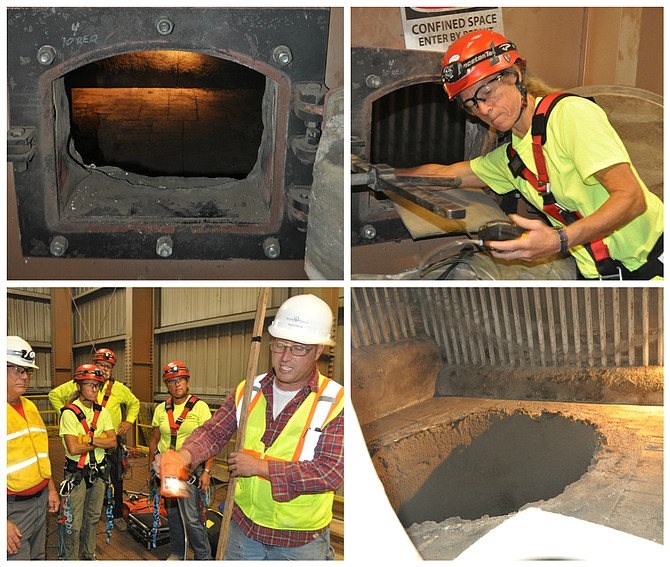 Photo by David Rauzi
(Right) Robin Embry was sampling the atmosphere inside the boiler before team members made entry. This will occur before and during any confined space rescue attempt. The entry team will also have a monitor constantly checking the air in their possession. The monitors will check for LEL (Lower Explosive Limit, propane, methane, unburned hydrocarbons, etc), CO (Carbon Monoxide), H2S (Hydrogen Sulfide) and O2. Both too high and too low O2 levels are a cause for concern; (Left) (L-R) Josiah Montgomery, Ray Bloch (Observer from Fresno County, CA SAR), Robin Embry, Rick Stephens, Nancy Kaschmitter and IFG plant engineer Kevin Dahler.
GRANGEVILLE — For 360 days of the year, this approximate five-story structure reaches temperatures 1,500 to 1,900 degrees Fahrenheit, using hog fuel to boil water into steam to operate lumber kilns and heat plant facilities during the winter.
But for about five days each year, Idaho Forest Group's Grangeville plant boiler undergoes a regularly scheduled preventative maintenance. Still warm two days after shutdown, the firebrick interior, lined with piping, provides an important training ground for Grangeville Mountain Rescue Unit (GMRU) volunteers in literally learning the ropes of conducting confined space rescue training.
"If you weren't here helping us, it puts the whole community in a bind," said Kevin Dahler, IFG plant engineer, to the 10 GMRU members assembled Tuesday, Sept. 5, noting their expertise provides a critical emergency service the region benefits from.
Working with IFG personnel, GMRU volunteers conducted a several-hour training at the facility, initially gathering halfway up the boiler around an approximate two-foot-wide hole normally secured by a steel door. On the opposite side, a blower ventilated the interior illuminated by a light showing an approximate five-foot-diameter hole leading into the chamber below. Later, a GMRU volunteer would be lowered within here while another would rappel in to practice a rescue. The access is a slim fit, the space dark with the interior's rough edges a potential abrasive and cutting threat to ropes. And then there's the heat:
"It takes about two days for it to cool off," explained boiler operator Travis Miller. "We shut it off on Saturday and it's still hot," as of this training three days later.
Much of the evening involved preplanning how such a rescue would be conducted involving a complex set of variables including the presence of harmful gasses, at what depth the victim or victims would be located through the compartmented boiler, power access for equipment, where to tie in ropes and also where not to connect when inside.
"The issue is if someone gets injured or has a medical condition in a confined space, EMTs are trained not to enter that space, and firefighters won't enter it either." said Brian Adams, GMRU president and team leader for technical rescue and confined space. "So, GMRU was brought on by IFG to be part of its confined space rescue plan."
This is the fifth year for GMRU to train at IFG's Grangeville facility, of which the unit has in excess of 50 confined spaces to choose from on the facility.
It's a potential scenario for someone to become incapacitated while working inside during maintenance, though not one that has happened during the 11 years the boiler has been in operation, Dahler said. On average, 75 people conduct maintenance – one-third contract employees, the rest are with IFG – with access to confined spaces restricted to individuals with the proper training who meet current OSHA standards.
"The company is very safety oriented," Dahler said, noting this facility has the lowest incident rate of any lumber mill within the Western Wood Products Association for the last six years running. GMRU was invited during the annual shutdown to train in IFG's confined spaces to preplan its procedures for access, rescue and egress, "if the need ever arises."
To give the best chances for this takes preplanning, according to Adams, so when the unit is called out its members know what already works and what they can implement. That began last Tuesday night by the team talking out different options for access.
"The boiler chamber is one that is more likely going to be where someone is injured or has a medical condition," he said, with the complication being the victim will likely be suspended in one of the openings by his or her safety restraint. In last year's training, they found the confined space a challenge for one to two rescuers to maneuver in and haul a victim up and out, complicated by the restraint – which with a jolt locks up like a seat belt – that the team has to release tension off by lifting the victim up in order to release the belt
The solution last Tuesday, Adams said, came from unit member Jeff Scott for using a tool called a "dog catcher stick" to attach a rope to a patient's harness, lift them to release tension on the release but then leave it on, allowing the patient to descent to a lower level with a larger opening access point and slide him or her out on a backboard.
"It worked really well," he said, "especially in that location; there was not a lot of room, and it would be hard for Jeff to attach to and actually lift that patient himself."
Other learning points in the training were as simple as batteries; some helmets had corroded ones, and it's a simple matter to tape a fresh set on so when a member grabs a helmet they don't have a problem. Another was the team that evening was anticipating Avista to disrupt the power.
"That opened our eyes we need to preplan for that eventuality," Adams said. "We don't carry a generator in our truck, and maybe we should. We ventilated the boiler with a blower, and that's hard to do [in the event of an outage] without our own generator."
The training involved members new to GMRU, students from a recent emergency care class the unit taught. Adams said this was a good opportunity to display what the unit is about and trying to accomplish, with the plan to train them up and continue the cycle by brining on more new members. Next month, the plan is hopefully to train at the Columbia Grain facility and work on skills involving grain engulfment.
"Every time we do a training we do something different, in a different space," he said.
In many ways, training is more difficult, Dahler explained.
"In a real rescue, we'd do whatever it takes to get that person out," he said: cut holes through walls, saw through hand railings. "But in training, you have try to figure out how to do it without damaging equipment." Providing volunteers the time and IFG staff in a non-crisis situation allows them to group-think through the process so if a rescue situation arises they can efficiently set up operations to quickly extract a victim safely for all those involved and minimize any damage needed to do so.
"And this all revolves around safety," Dahler said. "We want all our employees to go home to their families at the end of the day the same way they arrived."