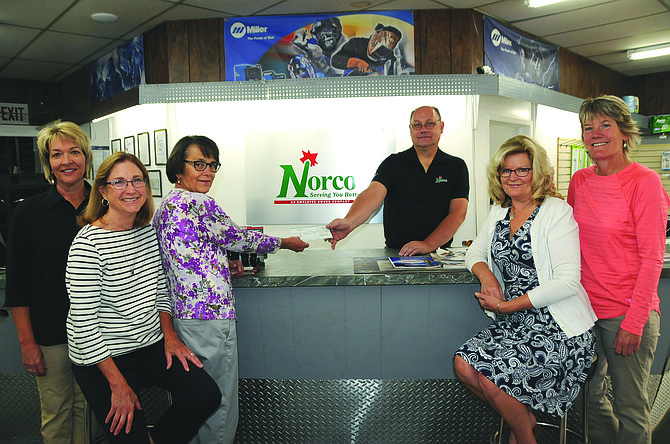 Photo by Lorie Palmer
Grangeville's Norco manager Randy Fischer (middle) hands a $500 check to Grangeville Community Foundation board member Jane Spencer. Also pictured are GCF board members (L-R) Andrea Solberg, Mary Jahn, Cristy Imus and Kristi Brooks. Not pictured are board members John Bennett and Nadine Knowles.
GRANGEVILLE — "We appreciate Norco's commitment to the community and the Grangeville Community Foundation [GCF]," said GCF board member Mary Jahn.
Grangeville's Norco store manager Randy Fischer presented a $500 check to board members Wednesday morning, Sept. 6.
The check to GCF was received from Norco's CEO Jim Kissler.
GCF is a nonprofit charitable organization created, according to its mission statement, by the people of Grangeville for the people of Grangeville. Through an affiliation with the Idaho Community Foundation and financial gifts from Grangeville supporters, a $200,000 endowment fund is making possible an annual grant cycle to benefit local projects. This year, more than $6,000 will be presented to local organizations at the 2017 grant awards event which is scheduled for Thursday, Nov. 2, 5-7 p.m., at the Grangeville Senior Citizens Center.
Norco is the nation's largest privately owned welding, safety, medical and gas supplier, currently operating more than 50 branches in the Northwest. The company is headquartered in Boise and has revenues of more than $200 million annually and employs more than 800 people.
"We are a proud group of people who share a common goal of serving you better," said Kissler. "By treating our customers, suppliers and fellow team members with respect and dignity we create rich lives for ourselves, our families and our communities. This basic principle, supported by our profit sharing plan, has enabled Norco to grow for the last 61 years into the most admired distributorship of our kind in America."
For the fourth consecutive year, GCF has opened its 2017 grant cycle. GCF will be accepting grant applications for projects that benefit Grangeville through Sept. 30. For questions e-mail grangevillecommunityfoundation@gmail.com or contact Jane Spencer at 208-983-2254.