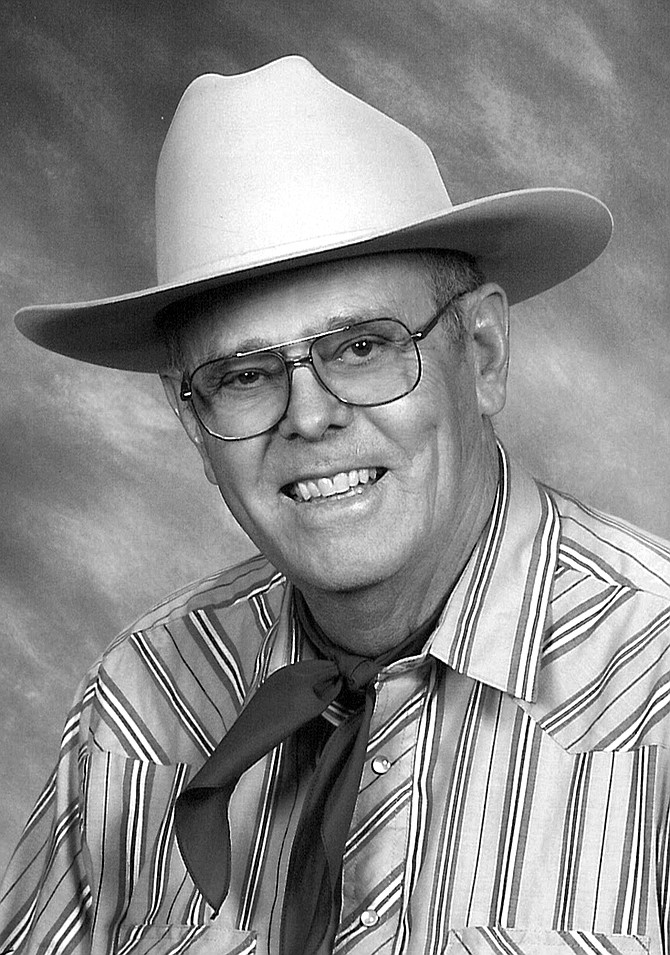 Urban J. "Shorty" Arnzen, 85, died Tuesday, Sept. 12, 2017, in the early afternoon. God needed him in heaven to sell the cow sale.

Shorty was born Aug. 7, 1932, in Greencreek, Idaho, to Frank and Mary Nuxoll Arnzen, the youngest child of ten. He attended grade school and high school in Greencreek, graduating as valedictorian of his class. Gonzaga University utilized Shorty's athletic talents in baseball and boxing. A one-year stint with the Lewiston Broncs rounded out Shorty's athletic career.
Dec. 27, 1955, Shorty married his lifelong partner, Margaret Spencer. In early 1956 Shorty and Marge joined forces with his in-laws, Vade and Margaret Spencer at the Cottonwood Sales Yard. In 1962 together they built Spencer Livestock Commission Company in Lewiston, Idaho. 1968 brought a trip to Iowa for Shorty; he attended the Reisch School of Auctioneering. Auctioneering was then added to his resume'.

1972 brought another change to the lives of Shorty and Marge. They purchased the Cottonwood Sales Yard and S & A Cattle Company after the death of his father-in-law, Vade Spencer. Outgrowing the Cottonwood Sales Yard property, the Prairie Ag Center on Hwy. 95 was born in 1976. Big livestock and farm equipment sales commenced.
The World's Auctioneering Contest beckoned in 1973; Shorty won the Reserve Champion Auctioneer of the World title. The betterment of the livestock industry was always high on Shorty's list. He was a member of the Idaho Cattlemen's Association, the National Cattleman's Association, the Idaho Beef Council, the Livestock Marketing Association and many local livestock associations. Shorty actively promoted all aspects of the livestock and agricultural community. Donating his auctioneering talents to area fairs and stock shows was another way Shorty gave back to his community. He was also a lifetime member of the Knights of Columbus.
Auctions, ranching and farming were a family affair. Shorty and Marge's three children, Pam, Nick and Debby were actively involved in every aspect of the business. Knowing how to size and sort cattle was a must in Shorty's book – he was a great teacher! Being faint of heart was not allowed on the Box Y Ranch; a favorite saying, "Whatever you do, don't weaken!" was frequently bellered.
A true believer in the Constitution of the United States and the Declaration of Independence, Shorty was a staunch member of the Republican Party. In his later years, Shorty hit the election trail for the candidates he truly believed in. Conservatism was an important part of Shorty's everyday life.
Surviving Shorty is his partner of 61 years, Marge; children: Pam Donaldson, Nick Arnzen (Judy Geis) and Debby (Joe) O'Neill. He was blessed with eight grandchildren: Ginny Gordon, Chantel Bowers, Roscoe Arnzen, Vade Arnzen, Nikita Arnzen, Brooks Arnzen, Noah Arnzen, Jake Rowland and great-grandkids: Allie and Spencer Gordon, Layla Arnzen and Eli Arnzen. He is also survived by many beloved nephews and nieces; sisters-in-law: Mariel Arnzen, Helen Arnzen; and brother-in-law, Glen (Laura) Spencer. Preceding him in death were his parents, Frank and Mary Arnzen; brothers: Philip (Clara), Dennis (Audrey), Francis (Dorothy), Alvin, Maynard and Carl who died at birth; sisters: Freda (Ray) Terhaar, Florence (Ralph) Crea, and Regina (Charlie) Forsman.

The family would like to thank Dr. Ron Sigler; Shorty's niece, Marge Lamb; Judy Geis; Linda Sonnen and the entire hospice crew for their kindness and excellent care for Shorty during his final days. In lieu of flowers, please send donations to Syringa Hospital Hospice or the Northwest Children's Home.
A Funeral Mass for Shorty was celebrated on Saturday, September 16th at St. Mary's Catholic Church in Cottonwood, Idaho. Burial was at the Cottonwood Catholic Cemetery.
Remembrances may be left for the family on Shorty's webpage at www.AccentFuneral.com