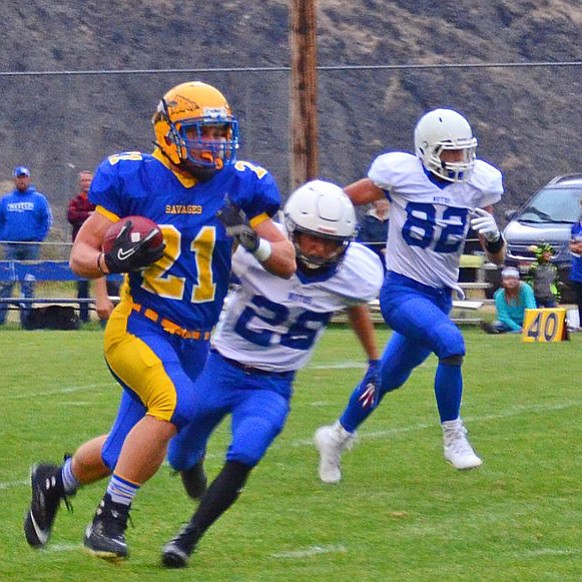 Joyful Rain Photography
Salmon River's Canyon Harper rushed for 247 yards during the Savages' 46-0 homecoming win over Notus last Friday night, Sept. 15.
Salmon River crowned its homecoming royalty and hammered Notus 46-0 Friday night, Sept. 15.
The Savages scored 20 unanswered points during the first quarter, with Canyon Harper scoring two of his six touchdowns during the opening phase of the game.
Harper finished with 247 rushing yards, and his touchdowns were as follows: a 35-yard run, a 46-yard punt return, a 5-yard run, a 50-yard pass from Devan Branstetter, a 34-yard run and a 50-yard run.
Also scoring for Salmon River was Payton Baugh, who housed a 16-yard run late in the first quarter.
Branstetter's passing numbers reflect high efficiency: he completed 7-of-11 for 161 yards, of which three went to Randy McClure for 71 yards.
The Lewiston Tribune reported Notus did not cross the midfield line during the first half.
Coming — Salmon River (3-1) is slated to play at 6 p.m. Friday night, Sept. 22, at Lapwai.