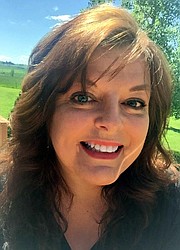 Hey Grangeville merchants, entries for the Oktoberfest scarecrow contest from businesses are sought. Call Peggy Wright by Sunday, Sept. 24, at 208-983-0826.
•
Grangeville Country Club is offering two for one Thursdays! Greens fees and lunch (of equal or lesser value). This is good through Oct. 31. Stop by 16875 S. Hwy 95, Grangeville, or call 208-983-1299 for details. Log onto www.grangevillegolf.com.
•
It's that time of year where schools are seeking the community's support.
Join Grangeville High School Boosters Club by sending a check with your name, address and phone number to P.O. Box 708, Grangeville, ID 83530. Cost is $25 individual; $35 family; or $50 business.
Grangeville Elementary Middle School is also seeking members for its organization. Send checks with name, address and phone number to GEMS PTA c/ GEMS, 400 South Idaho Street, Grangeville, ID 83530. Dues are $8 for individual; $16 for family; and $40 for businesses.
•
Don't forget to check out the Lewis-Clark State College Grangeville Outreach enrichment courses. The catalog is available or you can go to www.lcec.edu.ce to see all of the offerings.
Adventure to a Lookout is this Saturday, 8 a.m. to 2 p.m., and starts in Pioneer Park then on to Square Mountain. Rebecca Anderson will guide the trip and cost is $35.
Those ages 6 to 14 are invited to learn to fish at Wilkins' Pond, Grangeville, Thursday, Oct. 5. Dale Brege and Paul Turpin will take kids (no school in Grangeville that day) and teach them some fishing basics. Cost is $15 and the class runs from 8:30 to 11 a.m. To register call coordinator Carla Nuxoll Wilkins at 983-2164 or e-mail cnwilkins@lcsc.edu.
•
Are you looking forward to next week's Grangeville Merchants Oktoberfest?
Lots is going on, starting with the quilt walk Friday as well as the Syringa Clinic Community Block Party, the beer garden, Guilty By-Standers Band, merchant scarecrow contest. And the Rants and Raves Band.
Saturday, Sept. 30, will bring pony rides all day, Lions breakfast, wellness fair, Flamingo Fun Run, quilt walk, art show, scavenger hunt, car show, Franken-cart races, sidewalk art contest, Victory Karate Club demo, beer garden, wiener dog races, Shirley's Dance Studio demo, car blow-up, Ginny Cash Band, the Border Days Royalty dinner and auction and Vintage Youth Band. It's going to be a big weekend, so get ready.
I would like to enter Scout in the wiener dog races again, but we'll see what the rules are. Last year she came in seventh … out of eight. It was super fun and funny, but I hear it's pretty serious and the words "half-breed" were whispered when we walked by … Scout is a chiweenie. I guess in very serious circles she is supposed to have an advantage because her legs are not quite as short as a dachshund's legs. I don't think she's a very big threat, looking at her results last year (insert smiley face here).