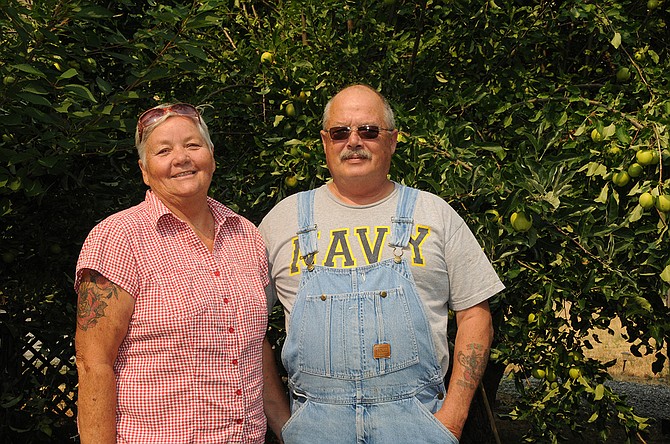 Photo by Lorie Palmer
Tresa Shearer and Ron Fiscus are the owners of Fiscus Farm in Pollock
Tresa and her partner, Ron Fiscus, own and operate Fiscus Farms in Pollock.
Tresa worked as a registered nurse for 25 years in California and raised three sons. Ron worked 25 years in the sawmill industry in Potlatch and also raised three sons.
"My family used to travel here to the area to visit, and when I became an empty-nester I was ready for the next phase, the next adventure," Tresa explained. She found the perfect property off U.S. Highway 95 on 2.5 acres of land where the Lees family raised sheep for years.
She moved and began her journey in 2004 and later met Ron on-line. They have been running the farm together for the past eight years.
"He grew up on a farm – he is really the one with the green thumb and the know-how," Tresa said.
The couple utilize as much of their land as possible, and figure out yearly what works and what doesn't.
"We were getting 25 pounds of cucumbers at a time last year," Ron shrugged. "This year – nothing."
However, the corn they planted is yellow and sweet.
"And not very labor intensive," laughed Tresa. "We want to keep active, but hey, we're getting older so that's important." Next year, they plan to plant more.
Their farm also includes blackberries, radishes, tomatoes, pumpkins, onions, potatoes, zucchinis ("no one really wants those as everyone can grow their own" Tresa chuckled), apples, beets, pears, sunflowers and farm-fresh eggs.
The farm utilizes a gravity irrigation system from the mountain area behind the farm from Denny Creek. They explained the water runs down and flows through the ditch until about mid-July.
"Then Ron has a drip system for watering," Tresa said.
Keeping up with the farm's planting and growing seasons are only part of what the couple does: They also pickle and sell asparagus, beets and eggs.
"We have Araucana and Rhode Island Reds – about 30 chickens," Ron said, adding the eggs sell well throughout the year.
"But, we had one point where we had extras so we started pickling them," Tresa added.
An amazing array of hops grows over the front yard fence and gateway, but, at the moment, Fiscus Farms has not found a market for them.
"It's too bad, because they're beautiful," Tresa said.
The couple makes the trek each weekend, June through September, to the McCall Farmers' Market where they sell their wares.
"It's a tourist market and we do very well there," Tresa said. "I don't think I could sell sunflowers in Riggins or Grangeville, but they get snapped up right away in McCall."
She said they have learned to play to the tourists' likes, who often say they want to "get back to their roots."
"All the while they're looking at their cell phones," Tresa joked. "Really, though, we appreciate them and we have people who come back and see us each Saturday or even the next year when they are vacationing."
Fiscus Farms will sell its corn until it's gone, then as fall nears they will tie up the cornstalks and sell them as decorations.
"You always have to think of what else you can do with what you have," Tresa said.
A USDA loan a few years back helped the farm purchase a tractor.
"It's our pride and joy," Tresa smiled. "And it's nearly paid off! A greenhouse and a variety of rototillers, mowers and trucks are also part of what makes the property run smoothly.
However, one more side business has also helped the farm be successful.
Crackers.
"They are very popular," Tresa said.
It was several years ago when the couple made the decision to purchase the business of a New Meadows woman and add it to Fiscus Farms.
Now, at least once a week, the couple starts early, fires up the confection oven and make about three batches of homemade crackers that include pumpkin, flax, sesame and sunflower seeds as well as oats.
"They bake exactly 22 minutes," Ron said. The entire day process of baking takes approximately 5-1/2 hours.
These sell not only seasonally at the farmers' market, but also year-round at Two Rivers Coffee Roasters and Idaho Banana Company in Riggins.
"Sometimes they run out and we have to bake another batch," Tresa said of the popular homemade crackers. "We're both left-handed, so we work well together in the kitchen."
The kitchen has also benefitted from the couple's hard work. Ron builds furniture and other items in his spare time, and he and Tresa tore out walls and cabinets in their home to put in custom-built cabinets, drawers and countertops.
"Winters can be long – you have to have something extra to do," emphasized Tresa.
Idaho people are not the only ones who enjoy the fruits of the farm's labors.
Two years ago, Ron said, the farm's three dogs ate most of the field of corn.
"They picked it and shucked it and ate it – we found debris strung all over the yard," he shook his head, smiling. "It's that good and sweet."
A fence now surrounds the corn field.
The dogs also take the apples and pears if they fall from the tree and hit the ground.
"They like the sweet pears best," Tresa laughed.
And a visiting buck knows exactly when to trot onto the property.
"As soon as he hears the buzz of the outdoor light coming on, he makes his way here," Ron shook his head.
The two enjoy summertime visits from a various of their "piles" of grandchildren, laughed Tresa. Recently, 5-year-old Timberlee from Potlatch enjoyed a few days on the farm exploring, swinging, helping pick corn and having a tea party.
"We work most every weekend but we did take off two weekends this summer – one for Ron's high school reunion, and one for the Iron Man competition his son is in at Coeur d'Alene," said Tresa.
The couple said their efforts have paid off as they have begun to see their debts paid.
"We are making a profit," Tresa said. "People have to be active and find ways to diversify and survive."
She said Ron has had 12 heart attacks in the past and she will get a hip replacement in November.
"But we make it work, and we put a lot of work into it," she said. "We have a good life."
Fiscus Farms is located at 6054 Highway 95 S, Pollock, Idaho. Call 208-628-9264 and check the farm out on Facebook.