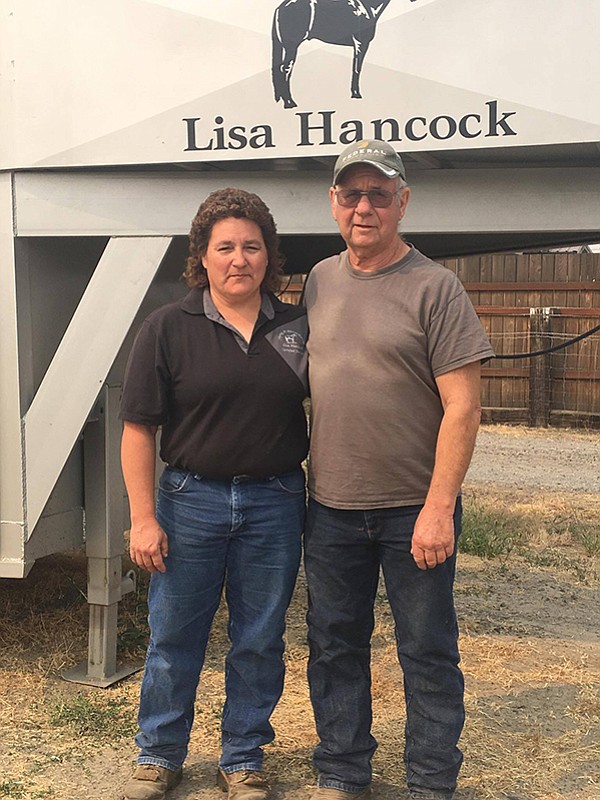 CLARKSTON, Wash. — "It all began with a $1,300 farrier bill," laughed Lisa Hancock, a native Idahoan and now a well-established local farrier.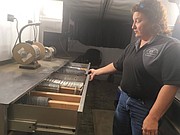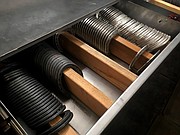 Hancock and her husband, Joe, have always been avid horse lovers, but such steep demands on their pocketbook were just not going to work for them. Shortly after getting her "ginormous bill," Hancock decided to attend Linn Benton Community College in Oregon and take matters into her own hands. After graduating from the farrier program there, she moved to Kamiah to begin working. For the first part of her career, she was better known for her ability to handle the crazy horses, rather than her own personal knowledge and expertise in therapeutic shoeing.
"If there was fur on it, I could shoe it," joked Hancock.
In the beginning, it was Hancock's 'git-r-done' that got her such a long list of clients. However, she doesn't deny that a lot of customers were dubious at first when a woman farrier showed up to their barn. "It's not easy being a woman in a man's world," she said, but today no one seems to bat an eye.
It wouldn't be long before Hancock would find her true niche in the horseshoeing world though. In the early 2000s, Hancock and Joe moved to Clarkston, Wash., where she was initially offered a contract with the University of Idaho to trim and shoe the world's very first cloned equine, including the mule 'Idaho Gem'. Hancock worked very closely with the NERL (Northwest Equine Reproduction Laboratory) herd at the university, which opened another door of opportunity for her. She is now contracted to shoe the U of I's beef unit herd. This task involves trimming and maintaining horses used to handle the beef herd.
When the University isn't keeping Hancock busy, she likes to work closely with Dave Rustebakke of Rustebake Veterinary Service in Clarkston on equines in need of therapeutic shoeing.
"When I began, I wanted to be able to fix things, I wanted to make things better for horses," said Hancock. She has been working with the vet clinic for the past 17 years, and has helped to treat hundreds of horses. With a big smile on her face, that is what Hancock says makes her job truly worth it.
Even though Hancock loves her job, she calls it a "necessary evil." She explains that every time you drive a nail into the horse's hoof wall, you are weakening the structure. The horse hoof is similar to a human fingernail; the health of a fingernail reflects the health of an individual just as the horse's hoof health reflects the animal's health. Hooves are composed of very tightly woven hair follicles. With this in mind, Hancock says that it is important to remember that anything beneficial for the animal's hair coat is also beneficial for the animal's foot. A horse's diet is a key component of their hoof health. Hancock goes on to explain to her concerned customers that biotin and methionine are two very important supplements that can be added to a horse's diet if, necessary, or just for prevention.
One of the first questions Hancock asks her customers before she begins shoeing, is "what are you going to do with this horse?" Ultimately, the answer dictates to Hancock what type of shoe she is going to use, and how she is going to approach the situation.
"All four feet are different; just as humans do not have identical feet, neither do horses," said Hancock.
For example, it's common for Hancock to use a different size of shoe, and perhaps even a different type of shoe on the animal's back feet versus their front feet. Hancock's trailer is equipped with a few of her own inventions, such as a rotating and raiseable anvil, and drawers full of aluminum, steel, rubber and titanium shoes. For animals in the sport of western pleasure, and for very young horses, Hancock likes to use aluminum shoes for their light weight quality. Titanium shoes are a great in-between shoe she says, because titanium will not wear as easily as aluminum, but is more forgiving than steel, and does not cause near as much jarring on the joints and bones as steel will. While steel is one of the main go-to choices, Hancock also likes to use rubber shoes. Rubber shoes can be used for nearly any purpose, but are commonly used by Hancock for therapeutic purposes. The rubber shoe can be put on without using nails, which allows the hoof wall to repair without a nail biting into it. She commonly uses the rubber shoe when she has to cast a horse's hoof.
For 20 years Hancock has truly enjoyed the many patients and customers she has had the opportunity to help. Today, she said, she is grateful of that $1,300 farrier bill from so many years past. It led her into a career filled with challenges and trials, successes and great relationships. Today she counts that bill as the best investment she ever made.