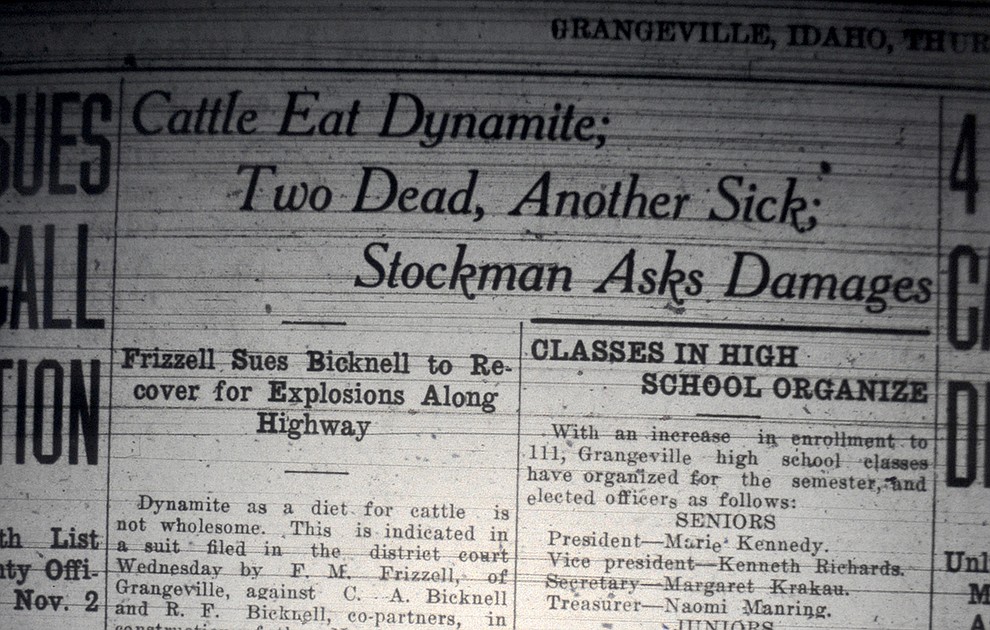 Frizzell Sues Bicknell to Recover for Explosions Along Highway
Dynamite as a diet for cattle is not wholesome. This is indicated in a suit filed in the district court Wednesday by F.M. Frizzell, of
Photo Gallery
A Glance at History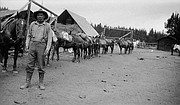 Grangeville, against C.A. Bicknell and R.F. Bicknell, copartners in construction of the North and South highway, seeking damages in the sum of $2,110. Of this sum, the plaintiff seeks to recover $100 because, it is alleged, his cattle ate dynamite and afterwards two of them died.

The complaint does not make clear whether the dynamite exploded in one or the other of the two stomachs of each animal and blew the cattle literally to pieces, or whether they died from poisoning. But, at any rate, the bovine appetite for high explosives did not prove advantageous either to the cattle or their owner, for the complaint alleges that two of them died and another was taken sick. While the tonic might have been an appetizer, it wasn't nutritious, judging from the complaint.
HOW THEY ATE DYNAMITE
The complaint alleges that the defendants "carelessly and negligently and wrongfully left exposed certain dynamite and explosives, all adjacent to the range where the cattle and stock of the said plaintiff were then grazing and pasturing in the winter of 1919 and 1920, and on account thereof the same were eaten by the cattle of the said plaintiff and which injured and poisoned the said cattle so that two animals died and one became sick, to the damage of the plaintiff in the additional sum of $100."
The first part of the complaint sets forth that Mr. Frizzell suffered a loss of $2,000 through damage caused by highway construction through his land, in that defendants "exploded great charges of explosives," which caused rocks to be hurled through plaintiff's dwelling house, wood house, barn and other buildings, and that tillable land was covered by rocks from the explosions and springs, from which plaintiff's livestock was watered, were buried beneath rocks blown from the highway. Pastures, the complaint avers, were rendered worthless, trees, shrubbery and fences damaged. All of the alleged damage was caused, it is set forth in the complaint, between Aug. 1, 1919 and April 1, 1920.