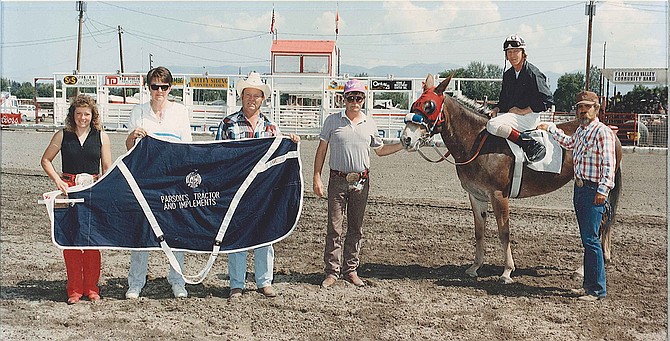 Some champs lose their edge to the pack over time, some retire and fade away. And then there was Molly Bee.
"She was 43 years old and still could run a hole in the wind," said Barney Chambers. Molly Bee was one of five racing mules he ran in competition during his 12 years in the sport, the one that garnered two national championships, and a powerhouse that none dared – whether with mule or horse — to put up $5,000 to Chamber's challenge to beat her in a 400-yard spring.
"They knew my mule would take 'em," he said, on why no challengers … and also, he added with a smile, that none of these mule guys had $5,000 anyway.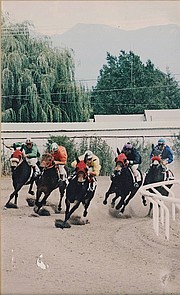 Molly Bee was the last of his racing stable, and age finally caught up with her earlier this year; she had to be put down.
Chambers is a mule guy; he's an enthusiast for Equus mulus.
"Mules can do a lot of things, and lot of things really well," he said, whereas horses can do one or two things really well. You can have a really good roping horse, he explained, but it probably won't do well as a trail horse, and it's likely not to harness up and pull a wagon. His wife, Bobbi Jo, added, mules live longer, have less chance for disease, better withstand changes in climate and elevation, and produce more work than the feed required to sustain them.
With this strong advocacy, no surprise then the couple is in the business; Coyote Mule Co., operates off a 120-acre ranch south of Cottonwood, selling 125 to 150 mules annually both nationally and internationally. Barney has been in the business himself for more than 50 years, during which – from 1982 through 1993 —he took his enthusiasm into the mule racing world.
"It's always been a novelty," he said of the sport that to the general public today is still not widely known. For race tracks, mule racing is just good business as there are most often not enough horses to fill out a card. "The crowds like them," he continued. "It's not a runaway," referring to the blowout a horse race can become. Mules hold in a group, and most always it's a photo finish to determine the winner. "That's why the public likes them; it's a race, and they run really true to form."
The current state of the formally organized sport probably dates back to the mid-1970s, according to Barney, but when you start getting around the old-timers you hear stories that find its origins in the 1930s. And it's likely even further back than that, he continued, as anytime you have anything to run on you'll have some crazy cowboy who'll give it a shot.
Mule racing is predominantly a sport of the West; largely now it is mostly in California, but when Chambers was racing the circuit – held in regional and county fairs – it was primarily run through Montana, Nevada and Arizona, with additional races in New Mexico, Oklahoma and Wyoming.
So, what makes mules good for racing?
Chambers explained it's a matter of the animal's durability and perhaps a little bit of stubborn. A horse will race until it tears itself apart, he said; a mule won't: "It's smarter than that," he said.
"A mule never gives you 100 percent; he always holds back," and for example, one of his mules, Macho Man, in one day of racing, "got tougher at the end of the fourth race."
Also, "Mules, they can run every day. Horses run once every two weeks," he said. Mules are more short-distance racers – 330- to 400-yard runs – versus horses that run the mile-and-a-quarter to mile-and-a-half. Still, mules can hold their own with horses: "At the 440, a horse would probably be two seconds faster than a mule," he said.
Mules race in four classes, starting at A and going to D; this is based, he explained, on factors such as the distance they can run and the number of races won. So, a C mule that is a consistent winner may be moved to B class. Some strategy comes into play here, he explained: If you have that C mule, moving to B, "that's a tougher grade to run against, so you need to lose a few races. So, you put your C mule in as an A, get his butt kicked and stay at a C. So, you kind of play the game a little bit," he said.
"I was lucky. I had five world champions," Chambers said. Along with two-time champ Molly Bee he had Gillie Dean, Macho Man and Snortin' Nortin'; those last four he sold, and of those he keeps track of, Snortin' Nortin' is out of the racing game and still works as a saddle mule.
But to get to be a champ they had to race all year. And to race, mules had to leave straight out of the gate and not colliding with others; failure to do so and the race steward would pull your mule. Addressing that issue with Molly Bee, Chambers said they provided an incentive: "We'd shoot her in the butt with a BB gun, and away she'd go." From that point on, Chambers needed only to carry a pack of BBs with him as he'd escort Molly to the gate: "I'd rattle that pack of BBs and she'd be all business. She'd have a clean run."
Race horses have perhaps a couple good years until they're finished, whereas a mule can go several times longer; usually they start around age 3, and legally they can run up to age 13. Physically, it's harder on horses, to keep them sound and physically fit, he said. But for mules, "once they're fit and ready to race there's not a lot you have to do," he said. In fact, more activity between race time – taking a pack string into the mountains, for example — "keeps them fresh, mentally tuned."
The career life between the two? For horses, between 25 to 30 races or "outs" until they're finished. For comparison, "I had two mules, one had 287 outs, the other 275 outs. They had raced that many times and they were still sound and still going."
"You're not going to get rich at it," Barney said. Purses then were between $2,500 to $3,000 for a win; now they're more at $25,000, but then as now there are the expenses for the trainer/owner that include the transport vehicles, the normal living and animal care expenses, and paying for jockeys during a season that can last around six weeks, fair hopping from town to town.
And about jockeys: "They have to be a little bit crazy to do this thing," he said.
It could be a good bit of money for a good jockey who could pull in $500 a week racing, "course, they'd spend it on beer and girls and everything else," he said. Barney had some good jockeys, but still, it could be a challenge come race day, just to find them, "asleep in the trailer, so hung over they didn't know their name" and getting them to leave the girls alone. "But I never had any problems. It was just making sure they had their act together."
"If I was younger I probably wouldn't," Barney said on getting into racing now. "It's an expensive sport; there's a lot of expenses to make it work."
Ego is a part of getting into racing, according to Barney, as you have built up a good group of mules and you're looking to see how they compare with the other guy. "It's a lot like car racing," he said, as you may build up a good, shiny car, "but you need to race against someone to see what it's about."
"It's just something you do as a mule guy," he continued, and the longer-lasting benefit he saw from his racing days was in raising awareness of his name and reputation in the greater mule community: "It opened a lot of doors for me," that have helped him in his mule sales business.
"I enjoyed every part of it," Barney said. "It sure wasn't for the money – we spent more than we made, but we had a good time."