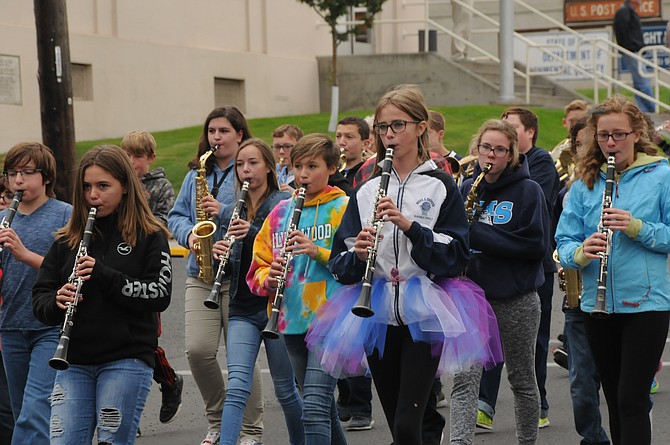 Photo by Lorie Palmer
Grangeville Elementary Middle School band members play and march up Main Street in the Grangeville Homecoming parade Friday, Sept. 15. They are led by teacher Merril-Lee Rasmussen.
Monastery art challenge ongoing through Nov. 5
COTTONWOOD — The Spirituality and the Arts program at the Monastery of St. Gertrude recently announced an upcoming art challenge and call for art focusing on the Magnificat or Song of Mary. Any and all are invited to create something inspired by Mary's response to the angel Gabriel (Luke 1:46-55) in any medium (if it involves performance or music, the length would be 10-15 minutes).
Beginning Sunday, Oct. 1, weekly e-mails will be sent sharing artistic inspiration and guiding in lectio with Mary's heart response a few lines at a time. Then, on Nov. 5, there will be a gathering at the Monastery after Mass for people to share their works. Those who are not able to make it to the Monastery are still invited to engage in this project on their own or with a group of friends. Afterwards, all artworks that can be hung on the wall will be invited to be a part of the 2018 art show that will be installed in the main hallway at Advent. This program is free.
For details or to register e-mail creative@stgertrudes.org or call 208-962-5065.
Mid-week Bible study to begin at Methodist church Sept. 27
GRANGEVILLE — Pastor Ryan Campbell, Grangeville United Methodist Church, 404 W. Main Street, invites the community to join in on a Wednesday evening Bible study starting tonight, Sept. 27, at 6 p.m.
"A mid-week recharge will be beneficial to our ministry and fellowship while digging into the Word is a great way to do that," he said. "We will begin with a study on the spiritual gifts: I have a simple program to help understand the gifts, themselves, and how to identify which ones we have been given and how we can use them."
Everyone is welcome to attend. Bring Bibles and come with open minds and open hearts.
Square dance lessons to begin Oct. 14
KOOSKIA – Mountain Dewers Square and Round Dance Club will begin square dance lessons Oct. 14, 6 p.m., at Clearwater Valley Middle School. For details call Sylvia at 208-935-7570 or e-mail adamizzi@q.com.
Art walk, sale is Sept. 30
GRANGEVILLE — The Salmon River Art Guild and Central Idaho Art Association will have an art walk and sale in conjunction with the bi-annual Quilt Walk, put on by Home Grown Quilts, during Grangeville Oktoberfest.
This is set for Saturday; Sept. 30, 9 a.m. to 4 p.m., at The Gallery, 107 W. North Street, and Holes Mini Mall, 213 W. Main St.
St. Catherine's Altar Society bake, rummage sale set for Oct. 6, 7
KAMIAH — Saint Catherine's Altar Society is sponsoring a rummage and baked food sale Friday, Oct. 6, from 9 a.m. to 4 p.m., and again on Saturday, Oct. 7, from 9 a.m. to noon. Saturday is $2 a bag day, fill bags and only pay $2 each. The sale is located in the Saint Catherine's parish hall, 7th and Idaho, Kamiah.
Border Days Royalty coronation, dinner set for Sept. 30
GRANGEVILLE — Grangeville Border Days Royalty Coronation, Silent Auction and Benefit Dinner is set for Saturday, Sept. 30, 5 p.m., Grangeville Gun Club, as queen Micaela Farris and princess Bella Klapprich enter their royalty reign.
The event is hosted by mother of the queen Amy Sue Aiken-Farris and Border Days Royalty Advisor Anna Wren. Cost is $20 person; limited to 110.
Purchase tickets now from royalty or call Amy at 208-983-1131 or 208-507-0487.
Proceeds will help with clothing, travel and appearance costs for Border Days Royalty throughout their year.
Methodist children's church to start Oct. 1
GRANGEVILLE — The Grangeville United Methodist Church is starting a Sunday Children's Church beginning Sunday, Oct. 1, from 11 a.m. to noon. It is offered to children in grades K-5. All children in the community are invited to join for faith, fun and fellowship.
Community breakfast at St. Catherine's KAMIAH — The free monthly community breakfast at St. Catherine's Catholic Church will be held today, Wednesday, Sept. 27, from 8:30-10 a.m. Breakfasts are held every month on the last Wednesday of each month. St. Catherine's Catholic Church is located at 7th and Idaho streets in Kamiah. The breakfast this month will be biscuits and gravy, scrambled eggs, coffee, orange juice, friendly faces and friendly conversation. St. Catherine's invites all in the community.
GEMS PTA jogathon set for Sept. 29
GRANGEVILLE — Have you heard? Grangeville Elementary Middle School PTA Jog-A-Thon is Friday, Sept. 29, between 9 a.m. and 2 p.m. It will feature bubbles for the elementary students and a color run for the middle school. Drop donations off at GEMS.
Blood drive set for Thursday, Sept. 28
GRANGEVILLE – The American Red Cross Blood Drive is set for Thursday, Sept. 28, at The Church of Jesus Christ of Latter-day Saints, 403 N Blvd., Grangeville, noon to 6 p.m.
Catholics invited for dinner Sept. 30
KAMIAH — All Upper Clearwater Catholics are invited to a sausage and sauerkraut dinner at Saint Catherine's Parish hall, 7th and Idaho Street, Kamiah, Saturday, Sept. 30.
Desserts, lemonade and adult beverages will be available. Mass will be offered at 5 p.m., followed by dinner at 6 p.m. Father Sipho Mathabela and Saint Catherine's Finance Team hope this dinner will bring area Catholics together to celebrate parish community and get to know one another better. There is no charge for the dinner.
Clearwater Meal Center luncheon set for Oct. 4 CLEARWATER – The Clearwater Meal Center's next luncheon is set for Wednesday, Oct. 4, noon. Meals are served the first and third Wednesdays of each month at the Clearwater Baptist Church. No charge for the luncheon, $5 donation appreciated when possible. All are welcome. Call 208-926-7776. Grangeville screening for preschoolers set for Oct. 12, 13
GRANGEVILLE — The Little Britches Fall Developmental Screening will take place Oct. 12 and 13 for children ages birth to 5 years. It will help determine age-appropriate skills or possible concerns regarding their development. The screening is free and will take approximately an hour to complete. It will be held at the Grangeville Christian Church in Grangeville between the hours of 8:15 a.m. and 3 p.m. Call for an appointment.