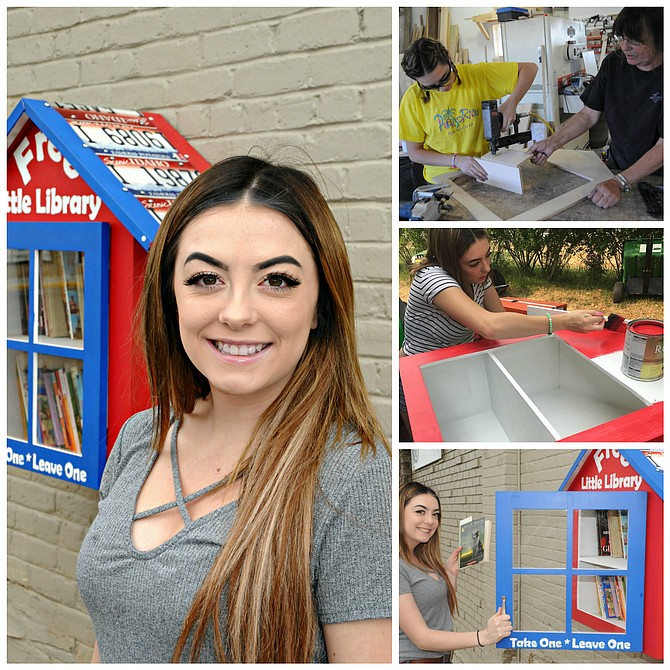 Photo by Lorie Palmer
Hailey Russell's senior project is a Free Little Library located on the side of Irwin Drug facing Heritage Square.
GRANGEVILLE — A walk on the Boise Greenbelt last spring changed the course of Hailey Russell's senior project.
"I was leaning toward planting trees, but when I saw this little library on a walk with my sister, I knew it was something I wanted to do," said Russell, 18, Grangeville High School.
Last weekend, Russell's own Free Little Library was placed on the wall of Irwin Drug, facing Heritage Square.
She worked with Lenora Akin as her mentor, Lenora's Custom Cabinets, as well as her family.
"I cannot thank Lenora enough for all she did with cutting, and piecing and building," Russell said. "And for letting me use all her great power tools!"
When Irwin Drug owner Chad Jungert heard about her project, he was quick to offer his outer wall for a hanging space.
"I also want to thank Chad for allowing the Free Little Library to be on his building – it's a great, accessible, visible space," Russell said. She also added cameras around the area will aid in halting any vandalism.
According to the Little Free Library website, in 2009, Todd Bol of Hudson, Wisc., built a model of a one-room schoolhouse. It was a tribute to his mother who was a teacher who loved to read. He filled it with books and put it on a post in his front yard. His neighbors and friends loved it, so he built several more and gave them away.
Since that time, thousands of these little libraries have been placed across the U.S. This neighborhood book exchange is meant to foster the love of reading and, therefore, help promote literacy.
Russell filled her library with books from thrift stores and yard sales, as well as from her own home.
"My mom and older sister were both English majors – we have a lot of books. A lot," she emphasized.
Books include classics, popular fiction, non-fiction, young adult and children's. People are invited to take books and also leave a book for someone else to borrow.
"I want there to be something for anyone who stops by," Russell said.
As for her own reading tastes, well, she said, it may be a bit surprising.
"I'm actually not a big reader – I did not like the Accelerated Reading program in elementary school where you had to read and take tests constantly," she said. "It made me dislike reading."
One might think with opinions such as this, Russell wouldn't choose a little library as a project.
"I really do understand the importance of reading – my dad reads the newspaper every single day. My mom read to my sister and me all the time," Russell said. "I like the idea of people having a book option when the library isn't open or they don't have money to purchase one."
And, she said, she does have a few favorites of her own.
These include the Lemony Snicket Series of Unfortunate Events, The Hunger Games and John Green books such as The Fault of Our Stars.
"When I am not forced to read, quantity over quality, I enjoy it more," she smiled.