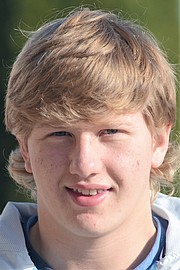 Tescher Harris is on fire.
The Grangeville quarterback has thrown for 15 touchdowns the last four games, including five last Friday night at Parma.
His targets for scoring strikes this season have included Chase Adkison, Booker Bush, Noah Kaschmitter, Braison Norman and Brandon Stump.
Bush, who has been the go-to guy, has caught six of those — including three last weekend.
Harris, for his part, credited the receivers and the offensive line for making it easy last week.
"Everyone played better and worked harder together," Harris said. "As far as our teamwork, that was the best game of the season. The touchdowns were exciting, but I couldn't have done it if our line wasn't blocking like they were."
The Bulldogs posted 363 rushing yards as a team, and 503 total yards as an offense. They converted seven of 10 third-down chances, and were three-for-three on fourth down.
"By far, our line did the best," Harris said. "Their corners just kept playing back on the receivers, and the line gave me so much time. The corners didn't know what was coming."
The Bulldogs rushed 38 times compared to 16 pass attempts — and that mix kept Parma off-balance most of the night.
"Zach Forsmann, Garett Malone, Nate Lothspeich, they kicked some butt," Harris said.
There will be Thursday night football this week in Grangeville, with the Lewiston JV set to play the varsity Bulldogs at 7 p.m.
After that, GHS gets into Central Idaho League play, at St. Maries on Oct. 6.
This Bulldog of the Week athlete highlight is brought to you by: Idaho Forest Group.