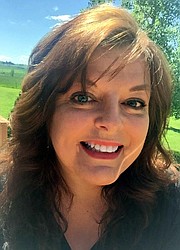 The Okoberfest Scavenger Hunt will take place in participating businesses throughout Grangeville from 9 a.m. to 4 p.m. Saturday, Sept. 30. Start and end at Home Grown Quilts. Prizes will be awarded!
Businesses include: U.S Bank, Pine Tree Community Credit Union, Umqua Bank, The Gallery, Cash and Carry, Asker's, Inland Cellular, Gortsema Moters, Super 8, Grangeville Flower Shoppe, Palenque, Nelson's Family Dentistry, Camas Lanes, Radio Shack, K & R Video, Seasons, Pizza Factory, Irwin Drug, Hopper's Pizza, Larson's, Lindsley's, Ace Home Center, Liquor Store (not sure of the "real" name), Rae Bros., Vets Center, Les Schwab, Hilltop Café, Depot Express and Crema Cafe.
•
The Annual Kamiah Chamber of Commerce Steak Feed will be Wednesday, Oct. 4, 6 p.m. E-mail Kristina Wilkins, kris@cedarcreekcreations.com, to RSVP today. Social time will begin at 6 p.m., and dinner at 6:30 p.m. The chamber will provide tri-tip steak prepared by local chef, Ron Anderson, and his crew, plus Joyce's French bread, drinks, plates and utensils. Bring a side dish or dessert to share. A short business meeting will be held around 7 p.m.
•
Puretone (hearing aids) will be in town at Camas Prairie Eye Clinic, 405 East Main Street, the first Thursday of each month starting Oct. 5, 10 a.m. to 3 p.m. Walk-ins and appointments are accepted. Call 208-746-6068.
Correction:
A front page article Sept. 20, titled "Plans on table for bridge," incorrectly stated Jesse Webb's employment. The article online at idahocountyfreepress.com has been corrected to note Webb is an employee of Western Federal Lands Highway Division, a subdivision of the federal government's transportation department. We regret the error. — AO
•
I see Gosselar Power Sports opened out on US Highway 95. More details on that later.
•
Brad Arnzen will retire from Avista Utilities Sept. 29 after 36 years on the job. Best of luck on the next leg of the journey.
•
Remember to wear read on Fridays – Remember Everyone Deployed.