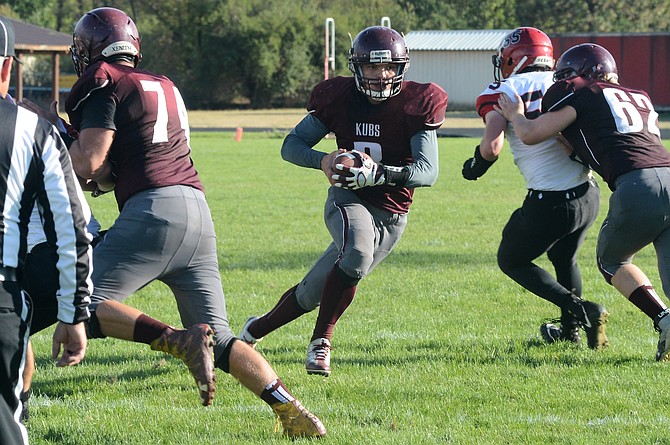 Photo by Andrew Ottoson
Kamiah's Kaleb Oatman scored on a short run on this play, which put the Kubs ahead of Wallace 18-12 Saturday afternoon, Sept. 23. Kamiah went on to win 40-20.
KAMIAH — The Kubs took the lead for good during the third quarter and went on to defeat Wallace 40-20, and joined a crush of teams with at least one win in the Whitepine League.
"We played tough," Kamiah head coach Nels Kludt said. "We challenged the kids to play tough after the Kooskia loss and they did exactly what they needed to do. We established an identity running the ball and stopping the run, and that takes toughness. We still have some guys dinged up — everybody does this time of year — and I saw guys showing a lot more gusto than we had the last couple of games."
Wallace led 14-12 a couple of passes to Carter Bailey, but the game shifted in the Kubs' favor when Kaleb Oatman barrelled into the end zone, and added the conversion in similar fashion. Wallace leveled it at 20-all with a 49-yard run by Jason Dimitroff with 2:11 left in the third quarter. Then Titus Oatman returned the ensuing kickoff 56 yards, setting up a touchdown run just before the quarter ended. Wallace's next possession ended with a bad snap on a fourth-and-one, and the Kubs lead grew to 32-20 on a pass from Kaleb Oatman to Luke Snyder. Cristian Lopez picked off a deep pass, and Titus Oatman made the final score with a 29-yard run.
"We didn't make much of an adjustment at halftime," Kludt said. "We were doing good things in the first half, running the ball well and defensively, but we didn't always capitalize. We did in the second half — we had to punt three times in the first half and we didn't have to punt at all in the second half. So we were getting those extra yards."
"Defensively, that's the first game we've tackled well," Kludt added. "Wallace has some weapons — their quarterback, their receivers, their running back — and we had to make sure tackles. And we did. That was big."
Coming — Kamiah (1-2, 1-1 Whitepine League) is scheduled to visit Prairie this Friday night, Sept. 29, with kickoff at 7 p.m.