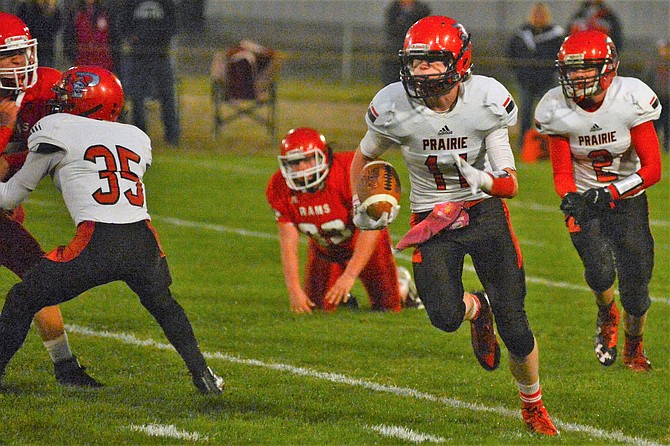 Photo by Andrew Ottoson
Prairie's Nick Mager found room to run on this return, which set up the pass he caught for a touchdown from Damian McWilliams later in the first quarter of a 64-28 PHS win Friday night, Sept. 22, at Clearwater Valley.
KOOSKIA — Beneath the surface of a 64-28 Prairie win over the Rams last Friday night, Sept. 22, are signs the quality of football at Clearwater Valley High is on the rise.
Still, the Pirates physically overpowered CV, and no individual did so more visibly than Caleb McWilliams, who posted five touchdowns and 101 rushing yards on 12 carries (8.4 yards per play).
"We ran the ball extremely well," PHS head coach Ryan Hasselstrom said. "We tried to do some things passing-wise that really didn't work out — because CV is good. Defensively, they played really, really well. They're much improved over past years."
McWilliams has played "extremely well" since the Genesee game, Hasselstrom said. "He played really good defensively. Our line did good. Jace Perrin did really good. Our ends blocked well in the run game, and defensively, it's good to have Spencer [Schumacher] back and plugging stuff up. CV has a lot of misdirection and they hit the hole hard and fast, and if teams don't prepare for them, they're going to struggle."
Even so, when the Rams broke two big-play touchdowns about 30 seconds apart late in the game, Hasselstrom knew Prairie would be able to protect what was then a three-score lead with about eight minutes remaining.
"They hadn't stopped us running," Hasselstrom said. "We had stopped ourselves a few times with turnovers, but they hadn't stopped us."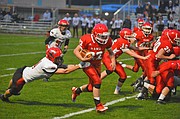 The first of those turnovers came on the Pirates first play from scrimmage, when quarterback Damian McWilliams' deep pass attempt was picked off by Carson Morrow. The Rams' first play from scrimmage went 33 yards in the form of a Bubba Summers touchdown run. Leading 8-0, the Rams broke up a fourth-and-4 pass attempt to stifle a seven-play series, but they themselves had to punt with a bit less than five minutes left in the first quarter. A 17-yard pass from Damian McWilliams to Nick Mager leveled the score at 8-8, and Prairie took the lead with help from a takeaway. After Derik Shears recovered a fumble deep in Rams territory, Jacob Stubbers ran six yards for a touchdown then added the two-point try for a 16-8 PHS lead.
CV punted on the first play of the second quarter, but leveled the score when a bad snap went high, and through McWilliams' hands, and was booted around before Lane Schilling returned it 60 yards. A pass from Tyce Pfefferkorn to Davis McElroy made it 16-all. Prairie's next series ended with Summers intercepting McWilliams, but PHS regained possession by way of a quick turnover on downs. Shears ran 25 yards for a 22-16 Pirates lead, to which Caleb McWilliams added two short touchdown runs before halftime. Caleb McWilliams found the end zone again during the third quarter, and twice more in the fourth. Owen Anderson scored a late touchdown for Prairie, but not before CV erupted.
Lane Schilling returned a kickoff 75 yards for a touchdown, and Pfefferkorn threw to Summers for a 72-yard catch-and-run, which briefly brought CV within 50-28.
"Our pass defense was really good," CV coach Roger Whalen said. "Our run defense came down to: those [Prairie] kids have been in the weight room and we haven't. They just knocked us off the ball. They blocked down on us, they kicked us, they trapped us and ran over us — and we couldn't do anything about it. They had a few more kids than us, but you can tell their program is ahead of our program by a long shot."
The win was Prairie's first Whitepine League victory of the season, and the loss was CV's second league loss in three WPL games so far — so the net effect was to bump the Pirates up into fourth place behind Genesee, Lapwai and Wallace, and to bump the Rams down to fifth.
Coming — Prairie (3-1, 1-1 Whitepine League) is set to host Kamiah Friday night, Sept. 29.