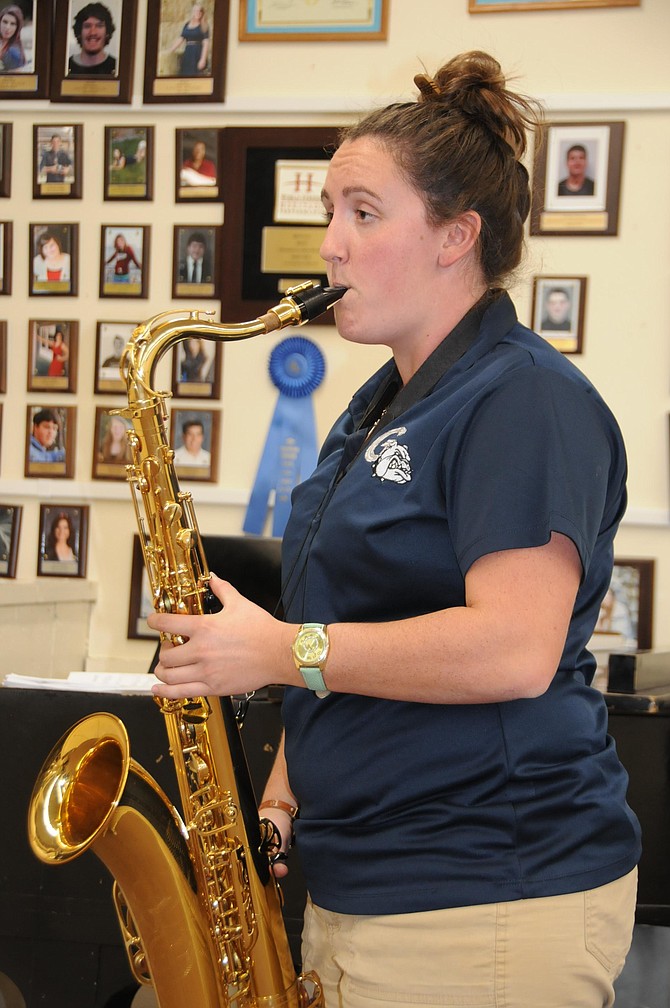 Photo by Lorie Palmer
Merrill-Lee Rasmussen is the new Grangeville schools music teacher. She plays a variety of instruments, including the saxophone.
GRANGEVILLE — A passion for music has led Merrill-Lee Rasmussen on a road that has brought her to Grangeville High School and Middle School. Rasmussen is the new music teacher for Grangeville schools, grades six through 12.
Born and raised about an hour outside of Seattle in Roy, Wash., Rasmussen graduated from Bethel High School.
"I did everything and anything music while in high school," she smiled. She was in school bands and community band. "I learned I could not live without music."
She played the horn as well as the saxophone. Following high school, she attended the University of Montana in Missoula where she obtained her degree in music education. While there, she was a horn section leader for the Grizzly Marching Band.
Following student teaching in April, she applied at GHS and was hired.
"I am really excited about this music program," she said.
Currently, Rasmussen teaches sixth grade beginning band, a combined seventh-eighth grade band class, GHS band, concert choir and Varsity Blue select choir. This semester she is also teaching The History of Rock and Roll and will switch to guitar next semester. She also leads the school's pep band that plays at many sporting events and assemblies.
Upcoming music events at GHS:
•Thursday, Oct. 26, 7 p.m., fall concert (all ensembles)
•Thursday, Dec. 7, 7 p.m., winter concert (all)
•Friday, Dec. 8, UI Holiday Concert (VB)
•Saturday, Jan. 13, 2018, music auction (all)
Rasmussen is not simply teaching for today or even for this year; she has goals for the future.
"I would love to have a program large enough to support two bands as well as two full choirs at the high school, and brass and woodwinds separated, at the middle school," she said. She would also like to see three bands at the middle school level.
"When I start with sixth graders, I envision what they will be like and what we will have when they are high school age," she said.
Rasmussen is in a community band in Lewiston and a horn club in the LC Valley. She and her boyfriend David Pick II, who is obtaining his masters at the University of Idaho, are also involved in their church in Lewiston.
She said she would like to help students see music as not simply a class at school, but as a "lifelong endeavor – something they will be able to have and use the rest of their lives."
"We are one big musical family, working independently but also as a team," she said. "I want to help develop the students' character as well as learn to talk without using words – through music."
When she isn't teaching or playing instruments, Rasmussen enjoys everything outdoors as well as board games.
"I couldn't ask for a better place to be right now," she smiled.