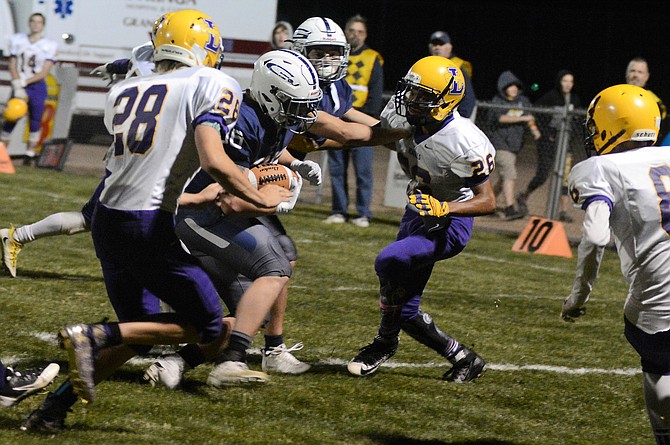 Photo by Andrew Ottoson
Grangeville's Justin Fogleman scored a touchdown -- the Bulldogs' third during their 48-0 win over the Lewiston JV Thursday night, Sept. 28, at GHS.
(Check back later for results. To report a score, text 208-507-0675, Facebook us, or e-mail us. Complete score sheets received by 10 p.m. will be written up tonight.)
Football result
Thursday, Sept. 28
Grangeville 48, Lewiston JV 0
Volleyball results
Thursday, Sept. 28
Troy def. Prairie 3-1 (19-25, 25-10, 25-22, 25-21)
Salmon River def. Summit
Lapwai def. Clearwater Valley 3-0 (25-19, 25-18, 25-15)
Football schedule
Friday, Sept. 29
Kamiah at Prairie
Clearwater Valley vs. Lapwai
Salmon River at Cascade, 3 p.m. MT
It'll be another football-heavy week, as the local schedules are once again spread over multiple days. We'll be covering Grangeville's game tonight, and we'll have more on the state of the Whitepine League tomorrow.
WHERE WE'LL BE
GRANGEVILLE - The Bulldogs beat the Lewiston JV twice last fall -- 47-30 at home early in the season and 35-12 on the road late last September. Tonight, the matchup marks just the third meeting of these teams in recent memory, and records show the match-up has been one-sided in Grangeville's favor.
AROUND THE LEAGUES
At Troy, the Prairie volleyball squad is set to face one of the two teams ahead of the Pirates in the WPL standings. Prairie took league leader Genesee to five games last Thursday and beat Lapwai 3-0 on Tuesday night to hold onto third place in the league.
MORE TO SEE
In Riggins, Summit will be taking on Salmon River in a non-league match.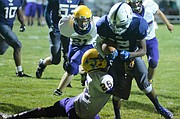 RESULTS
Grangeville 48, Lewiston JV 0
GRANGEVILLE - Including touchdown runs by Justin Fogleman and Jaize Norman, the Bulldogs accomplished everything they wanted during a 48-0 win over the Lewiston JV Thursday night, Sept. 28, despite a couple of scheduling oddities this week -- one planned and one unplanned.
"This one answered some questions, because we had kind of a screwed up week with the short week and the bomb threat," head coach Jeff Adams said. "We didn't have any excuses -- everybody's got to play -- and we saw two different scenarios play out tonight."
The Grangeville JV squad stumbled during an unusual 11-man/8-man matchup against Prairie's JV before the varsity game, but Adams praised the GHS regulars for "competing real hard and staying focused on perfecting their craft."
Adams noted it was the first time all season GHS played without committing a turnover. The Bulldogs led 6-0 on a run by Booker Bush, and 14-0 on a run by Tescher Harris followed by a Harris-to-Bush conversion; Grangeville's lead grew to 22 on a run by Fogleman and pass to Chase Adkison, and to 29 on a run by Braison Norman followed by Blake Darr's kick; GHS led 35-0 at halftime after Bush scored on a pass play; Bush returned the third-quarter kickoff for another touchdown, which made it 42, Darr's kick included; Jaize Norman made the final score 48-0 with a run late in the fourth quarter.
Grangeville players have tomorrow off, Adams said, and will get back to practice on Monday with their first Central Idaho League game of the season at 7 p.m. next Friday, Oct. 6, at St. Maries.
<< PREVIOUSLY
NEXT >>