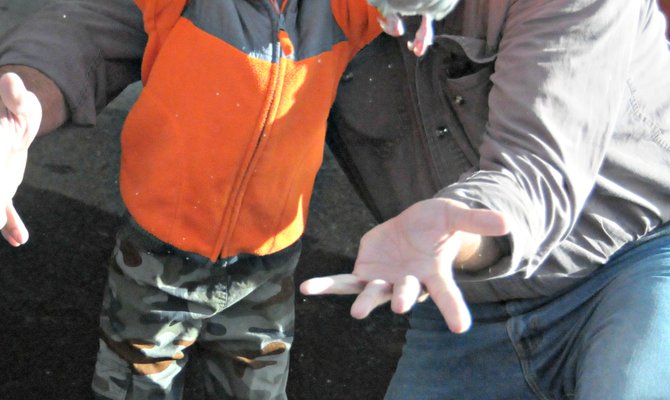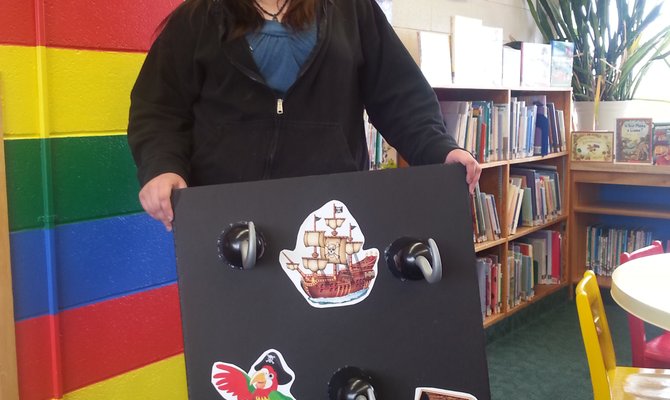 Blue ribbon winners
The words on the wall inside Prairie Elementary School says, "Every child learning -every day." Teachers and staff take this seriously, as was evident based on a recent award.

Kamiah crowned queen Katelynn Daugherty and king Jason Lloyd during halftime of the Kubs' 50-20 homecoming win over Genesee last Friday night, Oct. 17.
A look at the history of Idaho County.
Cottonwood News
Photos for the Chamber of Commerce scarecrow decoration contest are now on the chamber's Facebook page at Facebook.com/CottonwoodIdahoChamber. Go there to check them out and you can be the judges. The winners will be chosen by which ones have the most "likes" on the Facebook page. The first-place business will receive $50 in chamber bucks with the second-place winner receiving $20 in chamber bucks.
Riggins News
Charity (Gaston) Majors - Mrs. Boise Metro, daughter of Steve and Sue Gaston, former Riggins residents, was crowned Mrs. Idaho at the 2014 Mrs. Idaho Pageant in Boise Saturday, Oct. 18, with 39 ladies vying for the position. Charity will now go on to the Mrs. America Pageant and hopefully to the Mrs. World Pageant. Charity represents Camp Rainbow Gold, a children's cancer camp. Her platform is "health and nutrition, and being beaYOUtiful - being yourself is beautiful." Her husband, Chris, is a Boise firefighter and Charity owns Boise Fitness Factory. She is a health and fitness coach and a graduate of Albertson College. Boise's Kaley Sparling, who won Mrs. Idaho America in 2013, is the reigning Mrs. World. There are many amazing women in Idaho and across America who do wonderful things in and for their communities.
Kooskia/Kamiah News
Kooskia Fall Blood Drive will be on Tuesday, Oct. 28, from 2-6 p.m. at the Valley Bible Church on the corner of Broadway and Highway 13. Be sure to eat a good meal and drink plenty of water leading up to your donation. You must have ID or your donor card. Call for appointment at 305-8132. We need to schedule as many as possible before the event. If you can help with the blood drive on that day they are in need of volunteers. If you can help, call the above phone number. If possible, ask a friend to come with you to help.
The American Legion Hall in Kamiah will sponsor Bingo.
The 11th annual craft and quilt auction by Pinehurst Quilters group will be held this Saturday, Oct. 25, at the Riggins Community Center just behind Crump's Chevron.
A memorial service for Cameron Shoemaker, 40 years young and a highly decorated 1st Sgt. in the U. S. Army, was held at the Salmon River Community Church Saturday, Oct. 18.
Lowell/Syringa News
River Dance Lodge (ROW) at Syringa is closed for the season. Their huckleberry pie is homemade and the best ever, but you'll have to wait 'til 2015!
Elk City News
Seems there are bears showing up in people's yards and campsites near town in the last couple of months. There have been at least five sightings close in with three other bears being shot, one of which was on the front porch of a resident near town. Wonder what this unusual activity portends?
White Bird News
The Halloween party for the kids is this Saturday, Oct. 25. It will be from 6-8 p.m. at the IOOF hall.
Stites Baptist Church is starting a new ladies Bible study entitled, "The Inheritance," by Beth Moore. This is set for the Stites Baptist Church each Wednesday, 1 p.m., beginning Oct. 29. There is no cost and books will be provided.
The Kooskia Fall Blood Drive runs from 2 - 6 p.m., Tuesday, Oct. 28, at Valley Bible Church. Be sure to eat a good meal and drink plenty of water leading up to donations. Those donating must have ID or a donor card. Message or call 208-305-8132 for a donation time.
Previous Next