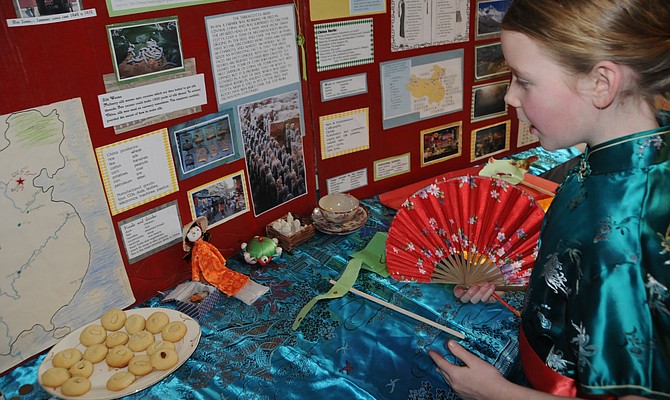 The third annual Holiday Chess Tournament was held at Summit Academy Jan. 16. Taking first place overall was George Watson with Cody Wassmuth of Summit taking second overall and Preston Ammerman of Kooskia Middle School taking third. For first-third graders, Asher Smith, a home schooler from Kooskia was first with Greta Watson of Summit taking second.

No Lowell news because headed to Las Vegas for my birthday. Free room, free buffet, cheap airfare! Had a Big Mac and shake for lunch (closest McDonalds to Lowell is 100 miles). There's one right next to Harrah's. Movies on TV are $17.99, using the Internet is $14.99 a day. A cup of coffee is $12. Life has been good to me, and Chewbacca is taking me on the new Ferris wheel!

A great thing about living in this area are the unexpected pleasures of driving in to town and seeing the large elk herd on the hill (see photo). In fact, while driving in to town for ladies Bible study early Monday morning, an elk was standing in the road just up from my driveway.
My Sweet '16 quote for the week is "It is not the harvest you reap, but the seeds you plant that make the difference in your life and the lives of others." McCall's always-popular annual Winter Carnival kicks off Friday, Jan. 29. A hefty helping of snow in Idaho's mountains has made McCall a winter wonderland.

convicted Idaho County double murder Mark H. Lankford who claimed illegal procedure in his sentencing for execution.

Members of the Flower Girls Club (with mascot Cheweenie, Scout) are seen here at Asker's Harvest Foods Saturday, Jan. 23. The group hosted a bake sale to benefit the proposed Grangeville ARF (Animal Rescue Foundation), raising $350 for the non-profit.

Where in the world did The Wizard of Oz's Dorothy live? In what country did National Geographic explorer Zeb Hogan study white fish in the Frazier River? And what's the most populous city in Siberia?

KOOSKIA — In the fall, the fourth and fifth graders at Clearwater Elementary School in Kooskia unanimously voted that MOSS, the McCall Outdoor Science School, rocks. With two night and three days in the forest, desert and water ecosystems that surround the University of Idaho campus in McCall, Kooskia students experienced a full range of science activities that dealt with the dynamics and physical history of the earth, the rock composition and the changes that the earth is undergoing.
GRANGEVILLE — Family Math Night will be held at Grangeville Elementary Middle School Monday, Feb. 1, 5:30 to 7 p.m. Games will be played that will also be able to be brought home. Food and drink is almost free – just pay for food by answering a math fact. Everyone is invited.

"Comedy and satire are vastly different things," stated Wendy Green, scholar for the first 2016 Let's Talk About It book discussion. A group of 14 people gathered to discuss Shalom Auslander's "Hope: A Tragedy," Tuesday, Jan. 19, at the Grangeville Centennial Library.

Seventh grader Kara Sanders took top honors at the Grangeville Elementary Middle School geography bee today, Jan. 21.

•HARPSTER – Investigators allege a Harpster woman shot her husband to death as he lay asleep in bed Monday night. Rockie Sue Ivie, 50, was arraigned Tuesday afternoon on first-degree murder, a felony.

Sometimes it takes a child to start the ball rolling. Emma Roach, 11, of Grangeville, has put together The Flower Girls Club and organized a bake sale to benefit ARF (Animal Rescue Foundation).

Military service is a family value for the Reilly clan, members of which were honored with Quilts of Valor in a small home ceremony last weekend.
Sweet '16 is moving quickly. I do hope you are having many memory-making events. I found a great quote by Richard Gere to add to the Sweet '16 list: "I am old, but I am forever young at heart. Know that you are the perfect age. Each year is special and precious; you can only live it once. Do not regret growing older, it's a privilege denied to many."