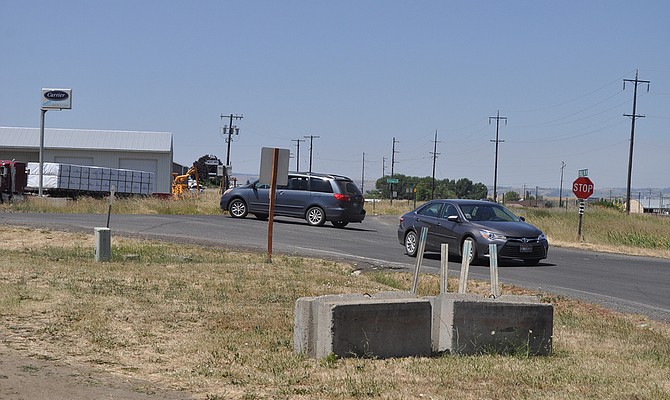 The Idaho County Sheriff's Office announced July 10 a citizen on July 9 found the license plate to missing man John French's vehicle. The citizen also found evidence that the vehicle had gone into the Salmon River at approximately milepost 201.5 on US Highway 95.

Private grassland southeast of White Bird burned overnight July 7, with locals who stayed up late taking photos of the burning at Baker Creek waking up to find the swath showing little activity Saturday morning.

After 37 Idaho County harvests and 38 years on the job, Martha Smith is excited to find out what the month of August looks like outside of the office. Smith is retiring from Columbia Grain International (CGI) as its head bookkeeper. Her last day will be July 7, when an open house will be held in her honor at the Hill Street office from 3 to 5 p.m.
State efforts on last year's Elk City slide garnered a regional award for the Idaho Transportation Department (ITD).

Well, I don't usually deal in rumors … but sometimes I do. I haven't had time to check all of this out, so take it with a grain of salt … six different people have told me so far that Hong Fa is closing. Sad news for the community; however, I also heard that the restaurant is being purchased by the Gomez family.

Get ready to honor the Stites High School graduating class of 1957 at the annual Stites Days this weekend, July 7-9. The entire class of 1957 will serve as the celebration's grand marshals.
The annual Prairie Days celebration in Nezperce are is set for this weekend, July 7 and 8, with the theme of "Glow in the Park."
While Idaho's children are seeing gains in access to health care, education continues to lag, according to data in the 2017 "Kids Count" Data Book released recently the Annie E. Casey Foundation. The Data Book focuses on key trends in child well-being in and measures child well-being in four domains: economic well-being, education, health, and family and community. Overall, Idaho ranks 20th.
Records
Magistrate/District Court records: June 17 to June 23, 2017
Records
Dispatch Log: ICSO, GPD, CPD - June 26-July 2, 2017
Records
Notes from the Idaho County Commission June 27, 2017

"...we come back for Border Days to see everyone..."
Sounds of joy, a few tears and lots of cheering filled the streets Sunday, July 2, as Border Days street sports kicked off on Main Street. Names called for foot races included winners from Idaho, Washington, Oregon, Montana, California and even as far away as Pennsylvania.
Stokes out due to medical issues
Mountain View School District 244 is on the search for a new superintendent. "I've been having some serious health issues," said Kent Stokes, who has served as the school district's superintendent since 2013.

Seen around the area these past two weeks have been a variety of sites.

"Pilots have been very happy with it" -- on the reconstructed facility
Vintage aircraft will be on display as part of next week's grand re-opening of the Idaho County Airport. The public is invited to attend next Wednesday, July 12, 11 a.m. to 4 p.m., at the facility on Airport Road, across from the Nez Perce-Clearwater National Forests Office in Grangeville.