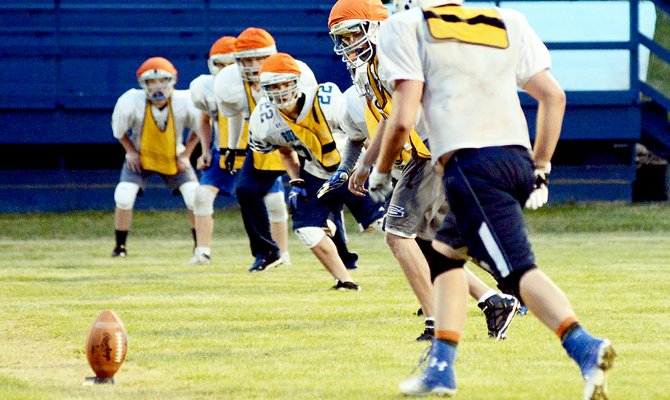 Grangeville pulled away with a 43-18 win over Moscow Friday night at GHS and Kamiah handled Zero Week visitor, Victor; Salmon River ran into a powerhouse, Troy.
Craig Gehrke has spent more than 30 years in a land-conservation career — working to set aside more wilderness in Idaho for The Wilderness Society and focusing on forest and range management issues on public lands. But Gehrke recently learned firsthand about the potential for implementing conservation measures on private lands — on his family's ranch near Cottonwood.
The Grangeville Lions Youth Football League is for youth entering third, fourth, fifth and sixth graders this autumn.
The Riggins Salmon Run is set to feature half-marathon, 10K and 5K races the morning of Sept. 13. Online registration will close Sept. 10.
St. Mary's Hospital and Clinics will be hosting their annual golf scramble to benefit the St. Mary's Hospital Foundation on Sunday, Sept. 21 at the Grangeville Country Club.
The JV Bulldogs first football game of the season will be at 5 p.m. Thursday, Aug. 28 at Moscow.
I am not an equipment junky. I am usually not one to trade off what I have for something new every time some great hunting tool hits the market. I can immodestly brag that I still have the same rifle, knife and even wife that I started out with 55 years ago; however when it comes to optics that's a whole different bowl of fish.
At the District II officials meetings last Wednesday night, Aug. 20, "the Grangeville football team, coaches, and fans won the Sportsmanship Award for last year," GHS football coach Jeff Lindsley said.
Hunters who applied for controlled hunts in the second application period can find out if they were successful at Fish and Game's website:
Scouting for upcoming hunting seasons, huckleberry picking, and general late summer recreating are all good reasons for getting away to Idaho's great outdoors.

Fall sports practices opened statewide on Aug. 15, but teams that scheduled "Zero Week" games started working out together on Aug. 11 in preparation for their season openers.
Active Network, the company that provides Fish and Game's online licensing system, experienced technical difficulties Wednesday, Aug. 6, due to the large volume of transactions involving leftover tag purchases and was forced to shut down.
Previous Next