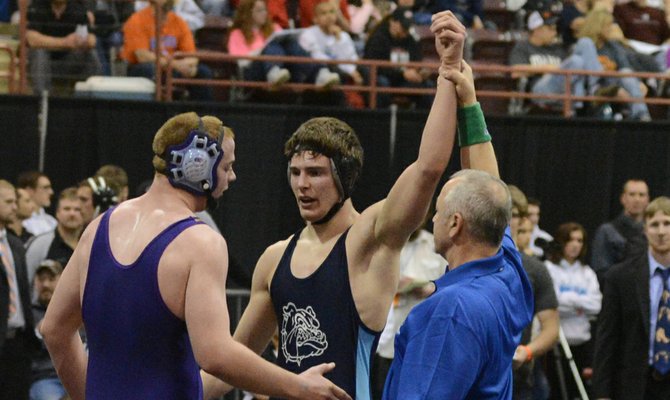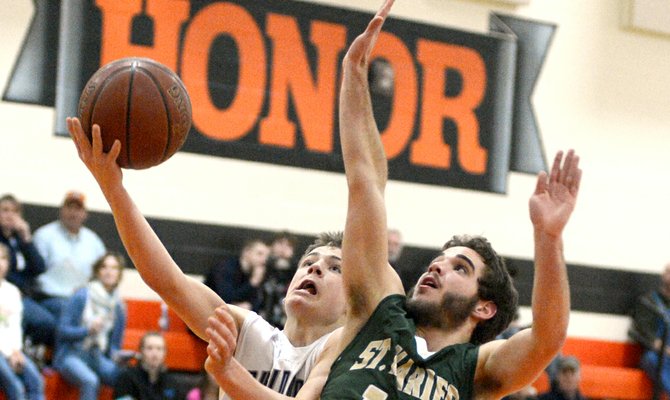 Despite early stumble, Grangeville finishes 2014 on a winning note
Last Friday morning, Feb. 21, the Grangeville girls awoke from a nightmare start to their season-ending tournament and finished off their final 2014 games in a fashion befitting a proud basketball tradition. Their consolation bracket foes, perhaps energized by knowing Melba held one of the state's higher-scoring teams to just 27 in a first-round upset last Thursday night, Feb. 20, did not fall easily.
With last week's district tournament in the rear view mirror, 16 wrestlers representing Grangeville, Prairie, Clearwater Valley and Kamiah high schools have been seeded for the upcoming all-classifications state tournament to be held Feb. 28-March 1 in Nampa at the Idaho Center.

By outflanking Council 65-42 last Saturday, Feb. 22, Salmon River looks to have opened up a beeline to the District III boys basketball title, with which the Savages would secure a state berth. Salmon River smoked Council with a 16-minute firestorm during which the Savages rained down 35 points, primarily from Leighton Vander Esch (who scored 28 points in the game), McCoy Hale (17) and Jimmy Shepherd (14). Up next, the Savages (18-2 overall) need no longer consider Wilder, which was eliminated by Meadows Valley last Thursday, Feb. 20, nor Meadows Valley, which was eliminated by Horseshoe Bend last Saturday afternoon.
With an 18-point swing in their favor during the middle quarters of a 51-43 victory over Orofino, Grangeville locked down a key district tournament win last Monday night, Feb. 24. Topping Orofino in the first post-season meeting of the Central Idaho League's top contenders puts Grangeville on course for a state berth with one more win. Orofino would need to nip the Bulldogs twice to qualify the 2A tournament, and the Maniacs must win tonight to even have the chance. Grangeville would have the same margin for error if St. Maries wins at 6 p.m. Wednesday, Feb. 26; either way, the Bulldogs will play for the 2A District II title on Feb. 27.

The Sts. Peter and Paul's grades 7-8 girls team finished fourth in their age group among about 350 total competitors. They won the sportsmanship trophy. Members of the team are (from left): front row coach Heidi Lindsley, Abby Asker, Molly Deford, Yadira Rojas and Rachel Chmelik; back row coach Russ Lindsley, Brenda Gomez, Paige Lindsley, Rebecca Kaschmitter and Victoria Rockwell.

Grangeville's fourth and fifth grade boys team, coached by Nolan Schoo, won the Kendrick Tournament last Saturday, Feb. 22, with a 4-0 record. Grangeville's fourth grade girls won the Kamiah basketball tournament.
Clearwater Valley's Dillon Fisher has been selected to play in the 2014 all-state all-star football game to be played at Canyon Ridge High School on June 21.
White Bird Queen tryouts are set for Saturday, March 22, at the White Bird Rodeo Arena on U.S. Highway 95, starting at 1 p.m. Women between the ages of 14-18 who reside in Idaho, Adams or Lewis counties are eligible. The White Bird Rodeo will celebrate its 25th year June 13-14. Contact Kami Fogleman, 983-1726 or 983-8779.
The Idaho Fish and Game Commission will consider proposed big game seasons for 2014 during a meeting March 19-20 in Boise, which includes a public hearing at 7 p.m., Wednesday, March 19 at the Washington Group Plaza at 720 East Park Blvd.

Old Man Winter set back Grangeville's district tournament opener by a day, but neither wind nor sleet could keep the GHS girls from completing their months-long march to the 2A girls state basketball tournament, which will open with Valley against Cole Valley at 1:15 p.m. MT Thursday, Feb. 20, at Kuna High School.
The Savages left no doubt as to the identity of their classification's top contender, crushing Long Pin Conference foes Garden Valley and Horseshoe Bend in games — the last of the regular season — on Feb. 12, and Friday, Feb. 14, respectively. Horseshoe Bend offered little resistance on Valentine's Day, during which three Salmon River starters posted double-digit point totals; one of the visitors outscored the entire home team during a 62-22 rout.
Shady visitors from parts north shot up the host Bulldogs' barn last Wednesday night, Feb. 12, doing much of the damage during the second quarter of a 58-51 defeat for Grangeville.
In their final regular season games, Prairie had no trouble with two of the teams the Pirates may encounter during the upcoming 1AD1 District II tournament.

The first section of this year's two Grangeville-area hunter education courses certified about 30 new hunters
Northwest Nazarene University junior Brianna Kinghorn, first baseman, was named the Defensive MVP of the Desert Stinger Classic held last weekend in Las Vegas.