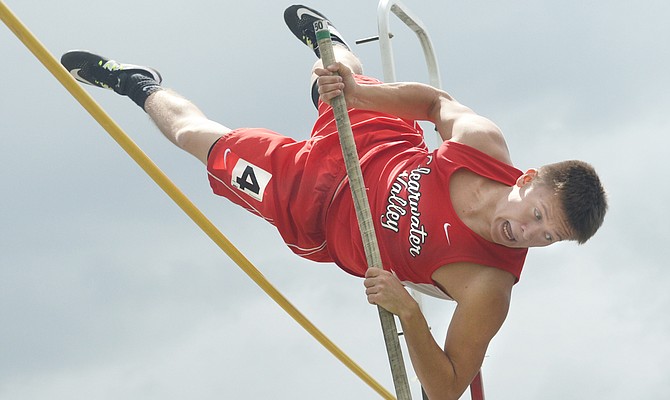 Bowling and trapshooting results.
Tennis
The Grangeville and Clearwater Valley tennis teams faced off last Thursday, April 21, and both teams are set to enter the home stretch of the regular season this week with a rematch April 28.
Moose, sheep and goat applications due; Rodeo season starts next month in Riggins; Softball camps slated; Bowhunter ed course to run April 30-May 1; Babe Ruth baseball sign-ups set April 27.
A course for bowhunters is planned April 30-May 1 at the Idaho County Search and Rescue building. Register at register-ed.com/programs/Idaho. Class starts at 7:30 a.m. both days, and is to run through 5 p.m. that Saturday and through noon that Sunday. Fee is $8. Parental signature is required for anyone younger than 18. Class size is limited to the first 20 to register. Contact Roy Kinner at 983-8443.

Grangeville track and field standout Madison Brown signed last Thursday, April 14, to join the Weber State track and field to compete in her favorite event: the triple jump.

Another way of looking at the time trial format used in the Salmon River Jet Boat Races is this: It's all about holding the highest average speed through all sections of the course.
The Prairie girls placed first among teams at the meet local schools organized this year in honor of Elvin Pfefferkorn. Clearwater Valley, where Pfefferkorn has coached pole vault, put its boys team second and girls fifth, in part on the strength of medal-worthy performances in that event.
Grangeville won both boys singles matches, both girls singles matches and six doubles matches last Monday, April 18, against the Lewiston JV.

The Clearwater Valley baseball team battled the tough team that visited from Genesee Monday night, April 18, and fell 9-1.

Baseball
Grangeville has ambitions of winning the Central Idaho League — or at least qualifying for the state tournament out of second place — but will have to crack Orofino when the Maniacs visit May 3.
Softball
Last Saturday, April 16, the Clearwater Valley softball team hit an important milestone with a come-from-behind win against Troy, during which CV overcame a five-run deficit to top the Trojans 13-12, coach Hailey Fishback told the Free Press.

Every April 14 for 102 years, the White Bird streamgage topped out well below 30,000 cfs (cubic feet per second), but last Thursday morning, April 14, the reading topped a 74-year old daily record — and the river continued to rise.
The spring chinook salmon fishing season will open Saturday, April 23, on parts of the mainstem Clearwater, Middle Fork Clearwater, South Fork Clearwater, Lochsa, Snake, Lower Salmon and Little Salmon rivers.
Kooskia softball team to reconvene April 25; Tennis team slates car wash fund-raiser; Babe Ruth baseball sign-ups set April 27.