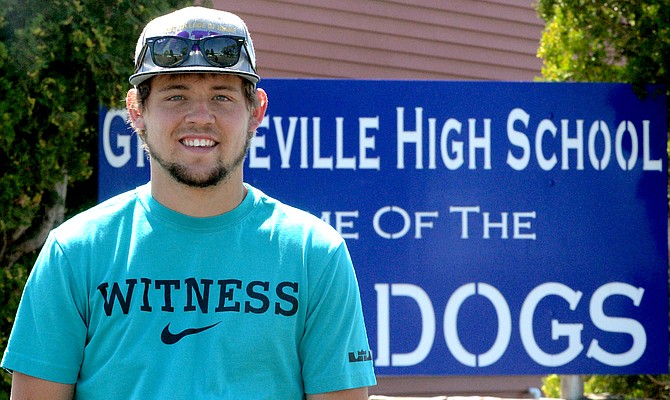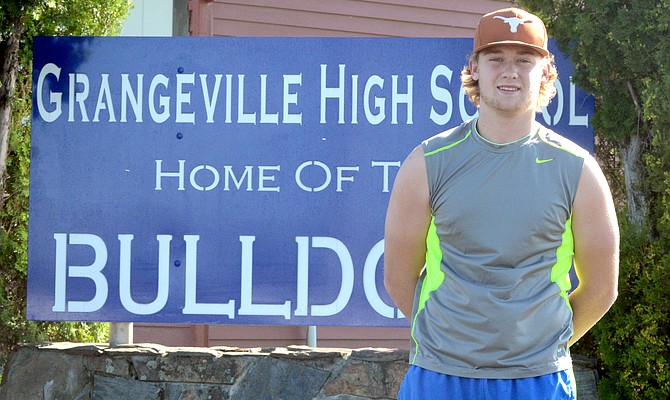 Border Days Committee adds $13,800; several events may see $1,000 payouts
The Border Days Rodeo is a little different this year — as it falls July 1-2-3 and not on the Fourth for the first time anyone can remember — but as a whole it's as big as ever and Family Night this Friday night, July 1, figures to be huge.
Forest managers at the Wallowa-Whitman National Forest are proposing a new recreation fee associated with the Wild and Scenic portion of the Snake River.
Stanley Cup winner and Pittsburgh Penguins defenseman Ian Cole will be in Grangeville this Border Days and will be in the parade Saturday, July 2 and at Pioneer Park, Elizabeth Rockwell Brown told the Free Press.

Larry Seubert gathered quite a haul of medals at this year's Lewis & Clark Summer Games. He is shown with the five golds and one silver medal he earned competing in the 60-64 year old age group. He received four gold medals in swimming events for the 200 meter freestyle, 100 meter freestyle, 50 meter freestyle and 50 meter backstroke. He also received a gold medal in bowling doubles and a silver for bowling singles. With all the swimming gold medals he could be called the "Michael Phelps of Cottonwood."
Shortly after his squad's strong finish at state, Clearwater Valley wrestling coach Carlos Martinez launched a project to raise $20,000 to bring key equipment up-to-date, including new mats ($9,500) wall padding ($7,250) and a heating system upgrade.

On Tuesday afternoon, June 21, no results were available for the Clearwater Valley Roundup Association rodeo held last weekend in Kamiah. Pictured, a bronc rider stuck right with a tough horse last Sunday, June 19.
Chinook fisheries are still open upstream of Orofino Bridge (seven days a week) and in River Section 1 (four days a week).
F&G board to meet in Jerome July 6-7; Mountain to Meadow runs slated June 25; Idaho State Field Archery Tourney set; Karate kids compete; New fee proposed for Snake River boaters.

Konnyr Marek was the only rider to stick with one of the Superior Rodeos ranch broncs last Friday and Saturday, June 17-18, at the 27th annual White Bird Rodeo. Including the $1,600 in added money as a Western States Ranch Rodeo Association event, the qualified ride ended up being worth more than $2,200 to Marek — the weekend's single biggest payout.
Timber traffic picks up
Timber staff on the Nez Perce-Clearwater National Forests reported there are currently many active timber sales and to expect heavy haul traffic while traveling on the Salmon River Ranger District.
Summer is almost here and a lot of folks have been taking advantage of the warm, sunny days by spending a day fishing out on the lake. Dworshak Reservoir is one of the most popular fisheries in the Clearwater Region and anglers have been busy chasing "bluebacks," "smallies," or whatever else may bite. Here's the lowdown on the kokanee this year and how the fishery is shaping up.

It was a beautiful morning for the youths who showed up at Wilkins Pond last Saturday, June 11, as the rainbow trout stocked by Idaho Fish and Game proved hungry and strong.

CVRA, White Bird slates brim for Fathers Day
The upcoming Clearwater Valley Roundup Association and White Bird rodeos are going head-to-head this weekend, with White Bird to go on its traditional Friday-Saturday of Father's Day weekend dates, June 17-18, and the CVRA moving up on the calendar to go on Saturday and Sunday, June 18-19.
To enhance youth hunting opportunity and experience, holders of a controlled hunt tag for big game or a turkey controlled hunt permit are reminded they may transfer their tag or permit to their child or grandchild.