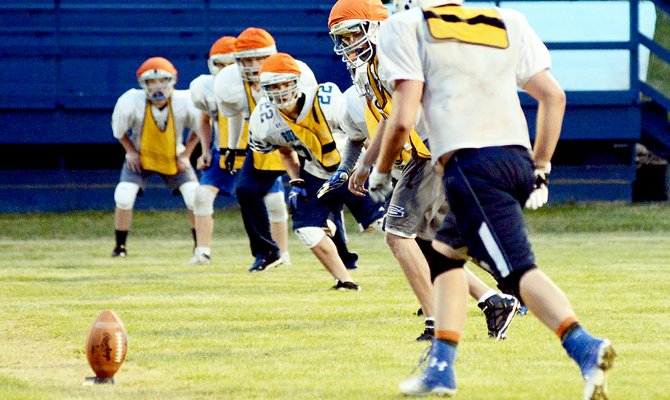 Waterfowl hunters in Idaho have a chance to comment on proposed 2014-2015 duck and goose seasons during an upcoming open house scheduled Friday, Aug. 8, 8 a.m. to 5 p.m. at the Clearwater Regional office, 3316 16th Street in Lewiston.
What's night golf? It's golf played on the course after dark with special glo-balls and other illuminated equipment — "the second most fun thing you can do in the dark," according to organizers Lois Geary and Lynda Williams.
Many Idaho hunters are optimistic about taking a deer, or maybe even two, this fall. Three consecutive mild winters across most of Idaho are resulting in unusually high numbers of mule deer and whitetail deer. Survival rates have been higher than average in five of the last six years.
A mandatory meeting for Grangeville High School football parents to register their incoming freshmen through seniors will be held Thursday, Aug. 7 at 7 p.m. in the GHS gym.
Parents of those high schoolers interested in running cross-country this fall must attend an organizational meeting for athletes and their parents on Thursday, Aug. 14, 5:30 p.m., in the GHS library.
Volleyball players and parents will meet at 7 p.m. Aug. 13 at the GHS gym; this is mandatory, and players will not be allowed to practice until their parent participates in a mandatory meeting with the coaching staff.
A Bulldog Football Fundamentals Camp for kids third grade through eighth grade is scheduled to run 9 a.m. to noon Aug. 11-12. Cost is $30 each for all kids from any schools in our area.
The Camas Prairie Turkey Trackers, will host its sixth JAKES Day outdoorsmanship event for ages 3-14 on Aug. 9 at the Camas Prairie Bowmens Range south of town on the Grangeville-Salmon Road.
The Riggins Salmon Run is set to feature half-marathon, 10K and 5K races the morning of Sept. 13.
St. Mary's Hospital and Clinics will be hosting their annual golf scramble on Sunday, Sept. 21 at the Grangeville Country Club. Contact Cheri Holthaus, 962-2327.

Grangeville swimmers, including Jillian Hausladen, dove in at their home swim meet last Saturday, Aug. 2. [Note: Results for this meet were not available before the print deadline; we'll run 'em when we get 'em. —AO]
Big game hunters who were drawn in controlled hunt drawings for deer, elk, antelope and bear have only until Aug. 1 to purchase their tags. Any tags not purchased by that date will be forfeited.

These are the all-around winners of the Triple Bar Drill Team O-Mok-See held last Sunday, July 27.

Terry Wood chipped this one just past the No. 9 hole on the final night of men's league play July 23 at Grangeville Country Club.