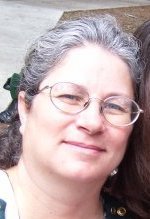 Becky Wilcock Roundy Olsen
Harpster, ID
October 3, 1959 - November 27, 2013

Becky Olsen, 54, was born Oct. 3, 1959, in St. George, Utah, to Arthur and Lenna Cox Wilcock. She was taken from us Nov. 27, 2013, in a tragic car accident near Tonopah, Nev.
She married Steven Roundy in 1978. They made their home in St. George, Utah, where they raised their nine children. There, Becky worked as a mail carrier. After a divorce in 2004 she married Charles Olsen. They moved to Harpster, Idaho, where she served as a home healthcare provider.
Becky was an outdoor girl who loved playing ball and riding horses. She was an excellent student in school and an avid reader. Music was her passion; she sang and played the piano, flute, guitar and more, and delighted in being part of the Idaho County Orchestra directed by Larry Paul. One of her favorite past-times was singing and playing music with Charles, whom she loved so much and was most devoted to. She also enjoyed crafts, sewing, gardening, and cooking healthy and tasty foods.
Innovative and resourceful, she could build and fix almost anything. Having developed building skills from her carpenter father, she built three houses, learning as she worked how to install solar power and a rocket stove for heat. The second house burned down, but she and Charles worked to build a new dream home. Her greatest attribute was her gentle, loving, patient, cheerful disposition. We will always love and miss our dear Becky.
Becky was preceded in death by her father, Arthur Wilcock. She is survived by her spouse, Charles Olsen; former spouse, Steven Roundy; mother, Lenna Wilcock; four sisters, Gloria Taylor, Laura Earl, Carol Seegmiller, Lucile Brubaker; and five brothers, Steven, Daniel, Arlen, Jim and Paul Wilcock. Becky's five daughters are Teresa Wentworth, Kathrine Wilson, Cristi Cota, Jennifer Jenks, Pamela Jackson; and her four sons are Doug, Shawn, Phillip and Kyle Roundy. Her posterity also includes14 grandchildren, all of whom she cherished dearly.
Funeral services will held on Saturday, Dec. 7, at the Kamiah LDS Chapel on Valley View St. on Hwy 12. The viewing will be from 10-10:45 a.m., followed by the funeral at 11 a.m. A family luncheon will be provided directly afterward. Burial will be at the Harpster Cemetery.
Donations may be sent to Sterling Bank in Kooskia. The family thanks everyone for their kindness and assistance.