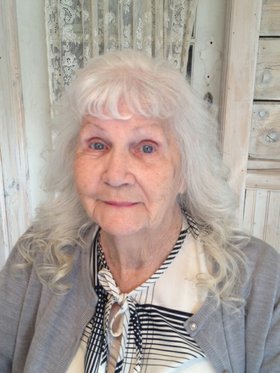 Ellouise Virginia Smith
Clearwater, Idaho
July 8, 1923 - November 28, 2013

Ellouise Virginia Smith, 90, was born in Burr Oak Kansas on July 8, 1923, to Merril Abram Hayward and Ida Gladys Page. She attended school in Grand Island, Neb., through her senior year and graduated with the scholarship of her class. She traveled to Utah by bus to attend the University of Utah. Ellouise worked at the Federal Reserve Bank in Salt Lake City as a bookkeeper. On June 11, 1945, she married Marcellus Vernon (Si) Smith in the Salt Lake City LDS Temple. Their first home was in Carey, Idaho.
Ellouise and Si had five sons, Nicholas, Brock, Coby, Casey and Lot. Ellouise always wanted a girl, so they adopted twin daughters, Tana and Tona. Throughout her life she supported Si as he ranched, ran two motels in Las Vegas and in other business ventures.
In 1988, Ellouise and Si were called by the Church of Jesus Christ of Latter-day Saints to serve a proselytizing mission to Ghana, West Africa. They served three subsequent proselytizing missions in North Dakota, Trinidad, West Indies and Suva Fiji. They also served two church education missions to Bowling Green, Ky., at Western Kentucky University and Atlanta Georgia at Kennesaw State University. Ellouise loved all her missions and the people with whom they worked.
In 1994 they purchased a home near Clearwater, Idaho. She lived there independently and in good health until the time of her passing. She was preceded in death by both her parents; her husband, Marcellus; oldest son, Nicholas; and great-grandson, Tucker. She is survived by sons, Brock Smith (Ann) of Portland, Ore., Coby Smith (Raylene) of Darby, Mont., Casey Smith (Darlene) of Clearwater, Idaho, and Lot Smith (Helen) of Grangeville, Idaho; and daughters, Tona Treetop and Tana Smith. She has 22 grandchildren and more than 30 great-grandchildren.
Services will be held Dec. 6 at 1 p.m. at the Kamiah LDS Church, Hwy. 12. She will be buried in Carey, Idaho.