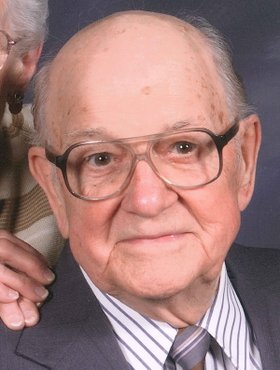 Vincent Clemens Frei
Craigmont, ID
February 18, 1917 - December 20, 2013
Vincent Clemens Frei, 96, of Craigmont, Idaho, left our world to join the Lord on Dec. 20, 2013, at Cottonwood after a short illness. Vince was born in Ferdinand at the Frei farm on Feb. 18, 1917, to Clemons and Philomena (Uhlorn) Frei. He was one of 15 children. Vince had a heart of gold, a strong faith, a smile and giggle that no one could resist.
Vince only finished school through the eighth grade but became a very successful businessman. He had a knack for merchandising and making his customers happy. He left the farm and built the Halfway Club in Ferdinand in 1940. In 1941 he worked on the railroad but was called home to work on the farm when the war started. In 1943 Vince and Caroline bought the local grocery store and operated the Frei Mercantile for 30 years. His recipe for German sausage was known throughout the region. They also owned Frei's in Lewiston for a few years. Vince was a Boy Scout leader, school bus driver, Ferdinand City Councilman, church trustee, volunteer fireman and director of the Idaho Food Dealers Association. He even used his personal station wagon as an ambulance. He managed the Cenex in Craigmont for 10 years. He spent his retirement cutting meat, gardening and teaching grandchildren how to play cards. His entire life was an example of a good husband and father to all his children and grandchildren.
He married Caroline Ann Kinzer on Aug. 10, 1941, in Uniontown, Wash. After retirement they enjoyed 23 years traveling with family and Good Sams in their motor home. They celebrated 72 years together this past summer.
He was preceded in death by his parents; brothers, Lawrence, John, Alfons and Albert; sisters, Elsie, Mary, Phyl, Clemy, Christine and Zita; daughter, Teresa Kay; grandchildren, Chad and Michael Frei, Teresa Benerita Haddock, Plaze Frei; and son-in-law, Tom Hoene.
He is survived by his wife, Caroline at the family home in Craigmont; eight children, Dan and Charlene Frei of Grangeville, Maxine (Hoene) and Ron Williams of Boise, Connie and Cliff Bruegeman of Cottonwood, Carol and Jim Haddock of Potlatch, Jeanne and Brent Vance of Boise, Wayne and Irene Frei of Coeur d'Alene, Terry and Cheryl Frei of Hauser, Annette and Jim Frei-Allen of Livermore, Calif.; 23 grandchildren and 35 great-grandchildren; brothers, Hubert, Ray, Willie; and sister, Aggie.
A funeral Mass and Rosary was celebrated at Assumption Church in Ferdinand on Dec. 28. In lieu of flowers, donations may be made to Assumption Parish of Ferdinand or St. Mary's Hospital in Cottonwood. Burial followed at Ferdinand Community Cemetery.