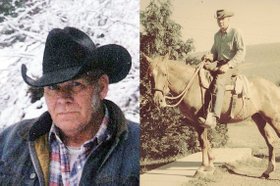 Wayne A. Goeckner
Ferdinand, ID
May 3, 1944 - December 23, 2013

Wayne Andrew Goeckner, 69, passed away suddenly Monday, Dec. 23, 2013. He was born to Andrew and Ann (Enneking) Goeckner on May 3, 1944, in Cottonwood, Idaho. He was the third of their five children and was raised in Keuterville, Idaho.
After graduating from St. Gertrude's Academy, Wayne worked for Elmer Jungert. He then joined the National Guard and served in the Vietnam War. During that time, he made many good friends and was able to see many different parts of the world.
When he returned to Idaho, Wayne worked for his uncles, William, Hubert and Albert Enneking. In November 1972, he married Joyce Seubert. They made their home on the edge of the Salmon River Breaks where they raised their five children, Susan, Andy, Annmarie, William and Jenna. In 2002, Wayne and Joyce moved to Ferdinand, Idaho. Wayne was a lifelong parishioner of Holy Cross Catholic Church. Wayne enjoyed time spent with family and friends. His hospitality, quick sense of humor and genuine fondness for children, most especially his grandchildren, will not be forgotten.
Wayne was blessed to be able to make a living doing what he loved. He had said that, if you enjoy the work that you do, you never "work" a day of your life. His days of "not working" were spent logging, ranching and farming from sunup to sundown with his brothers and his sons.
He is survived by his wife of 41 years, Joyce; his sons, Andy (DeDe) and William (Lynn) Goeckner of Keuterville; his daughters, Susan (Neil) Wassmuth of Westlake, Annmarie (Jared) Schwartz of Ferdinand, and Jenna (Matt) Murdock of Ferdinand; his brothers, Ken and Delmer (Marcella) Goeckner; and sisters, Sister Clarissa Goeckner and Wilma (Stan) Baerlocher. Wayne has eight granddaughters and 14 grandsons who will all miss him very much and are so thankful for the time they had with him. He also leaves behind many nieces, nephews, cousins, in-laws and friends. Wayne was preceded in death by his parents.
A recitation of the Rosary was Monday, Dec. 30, at St. Mary's Catholic Church in Cottonwood followed by the funeral Mass. Immediately following the Mass, burial took place at the Keuterville Cemetery.
Arrangements were under the direction of Uhlorn Funeral Home in Cottonwood. In lieu of flowers, the family suggests donations be made in Wayne's memory to a charity of your choice.