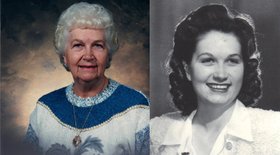 Marjorie Geneva Curtis Konrad
Clearwater, Idaho
November 30, 1926 - October 28, 2013
Marjorie Geneva Curtis Konrad, 86, a longtime Clearwater, Idaho, resident, was born Nov. 30, 1926, in Grangeville, Idaho, to Riley and Iva (Schmadeka) Curtis. With her family by her side, she peacefully passed away at her home on Monday, Oct. 28, 2013.
Marjorie grew up on the Camas Prairie, with three brothers (Delbert, Wesley and Vance). Her father, Riley, was Marjorie's role model of a truly unselfish and giving person. She attended a little country school called Rocky Point and graduated from high school at Kooskia, Idaho.
On Nov. 24, 1944, she married Ludwig (Luby) Konrad, Jr. in Walla Walla, Wash. Luby and Marge began their life together near Harpster, Idaho, farming and raising cattle. In 1968 they moved to Clearwater. They had four children, Gary, Linda, Rita and Janie. Marjorie was involved with raising the family, gardening and helping Luby with farm work. She was the typical farmer's wife doing manual labor right along the side of her husband. She loved spending time with her family especially her grandchildren and great-grandchildren!
For years she was a member of the Clearwater Grange and Rebekahs. You could always find her washing dishes at the annual Groundhog Feed! She enjoyed spending time at the family cabin on Newsome Creek. Hunting, fishing, riding 4-wheelers and playing the piano were just a few of her enjoyments.
Marjorie was preceded in death by her parents, Riley and Iva Curtis; husband, Luby Konrad; brothers, Wesley and Delbert Curtis; son, Gary Konrad; and great-grandson, Robert Akin.
She is survived by her brother, Vance Curtis (Bay City, Ore.); daughters, Linda Konrad Hargens and husband, Ray (Clearwater, Idaho), Rita Konrad Bacon and husband, Leonard (Kamiah, Idaho), Janie Konrad Agee and husband, Bruce (Pasco, Wash.); daughter-in-law, Bonita Pixley Konrad (Clarkston, Wash.); numerous grandchildren, great-grandchildren and great-great-grandchildren.
We will miss Marjorie's positive outlook, graceful manner, love and support.
The family wishes to thank the health care professionals and Hospice nurses for their kindness and care throughout Marjorie's illness. A special thank you to those whom helped with her care.
There was a celebration of Marjorie's life at the Clearwater Baptist Church on Saturday, Nov. 2 with Pastor Bill Horn officiating and arrangements by Trenary Funeral Home. Burial followed at the Clearwater Cemetery. In lieu of flowers donations can be made to Quick Response EMTs.