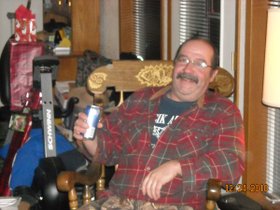 Terry Ray Eckman
White Bird
January 13, 1965 - October 28, 2013

Terry Ray Eckman, 48, passed away from a car accident on Oct. 28 in Watford City, N.D.
Terry and his twin sister, Tracy, were born Jan. 13, 1965, in Blue Earth, Minn. His parents were Alvin and Lurene Eckman. He grew up in Henning, Minn., graduating from Henning High School in 1983 and shortly thereafter headed to Montana to become a logger.
In 1986 Terry moved to Idaho where he soon met Lynn Rhoades. They were married in 1987 and lived in White Bird where they had two sons together.
The last two years Terry was driving truck in the oil business in North Dakota. He said more than once that it was the easiest work for the most money that he had ever done. Prior to that Terry did most of his work in the logging industry in and around Idaho County. Terry was known as a hard worker and not afraid to turn his hand at anything.
Terry is survived by his two sons, Ethan (girlfriend Chelsie) of Hebron, N.D., and Evan of White Bird, Idaho; his longtime girlfriend, Cindy Corina and her family of Payette, Idaho; his mother, Lurene and stepfather, David Holm, Henning, Minn.; sisters, Brenda McDougall (Guy) and Naomi of North Dakota, Tracy Eckman, Tammy Lueders (Tim) and Barb; along with stepbrothers, Richard, Mike and Bill Holm; and one stepsister, Laurie Smith (Geoff) all of Minnesota; and his mother-in-law, Lydia Chrane of White Bird. Terry was blessed with numerous family members still living in Minnesota.
Along with his grandparents; Terry's father, Alvin; and two fathers-in-law preceded him death.
A celebration of life will be held Saturday, Nov. 9 at 11 a.m. with potluck at the IOOF Hall in White Bird. Come join us with your stories, pictures and laughter.