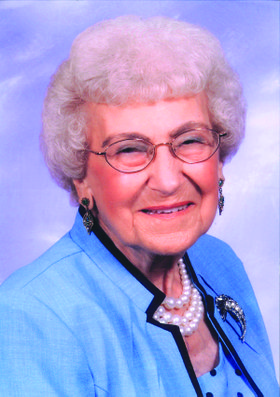 Regina Forsmann Hollandsworth
June 14, 1920 - November 8, 2013
Regina Forsmann Hollandsworth, 93, of Cottonwood, Idaho, went to be with the Savior and Lord on Nov. 8, 2013, in Lewiston. She died peacefully at St. Joseph's Regional Medical Center from complications related to a fall.
She was born June 14, 1920, in Cottonwood to Clem and Maggie Schmidt Riener. Regina attended Cottonwood Grade School through the eighth grade and then went to work to help take care of her family. She married Clarence Forsmann on June 6, 1939, in Cottonwood. They made their home in the Greencreek, Cottonwood and Winona areas. They farmed and also owned Fuzzy's Chevron Gas Station during the time the radar station was being built. Clarence passed in 1962. Regina then met and fell in love with John Hollandsworth. They were married on Aug. 6, 1965, and raised cattle on the Salmon River for many years. John passed in 2007.
Regina had a strong love of life and many hobbies that kept her busy at all times. She enjoyed gardening, playing cards, fishing, music, dancing and helping out on the ranch. Her green yard and beautiful flowers were always appreciated by everyone during the summer months. She was always on the move and never wanted to slow down. Regina was always admired for her beautiful appearance and could be seen out working in her lawn in her high heeled shoes, necklace and earrings. She was a lifelong member of St. Mary's Catholic Church in Cottonwood.
Her greatest pride and joy was her family. She always looked forward to Sundays as that was the day many of her family would come to visit. Recently, family and friends celebrated another milestone which was her 93rd birthday.
Regina is survived by her three daughters, Marlene (Fred) Bieren of Portland, Ore., Pam (Jerry) Keeler of Grangeville, and Micki (Alan) Holthaus of Lewiston; her six sons, Marvin (Jackie) of Grangeville, Bob (Patti) of Lewiston, Wayne (Dar) of Cottonwood, Ed (Rose) of Cottonwood, Jake (Marlene) of Cottonwood and Ted of Scottsdale, Ariz.; one stepson, Steve Hollandsworth of San Francisco, Calif.; and stepdaughter-in-law, Kathy Hollandsworth of Eagle; her 35 grandchildren; 48 great-grandchildren; and one great-great-grandchild; one sister, Marcella Martinson of Red Bluff, Calif.; her in-laws, Delores Seubert, Ned (Patty) Forsmann, Syvlia Forsmann, Armella Haener, Grangeville, Lew (Polly) Hollandsworth and Hank DeSheils all of Cottonwood, and Carol Rocha of Turlock, Calif.
Regina was preceded in death by her parents, Clem and Maggie Schmidt Riener; sisters, Loreen DeShiels and Mary Ann Kerkes; her brothers, Billy, Donald and Urban Riener (Rita); her stepson, Bill Hollandsworth; her stepdaughter, Mary Jane Hollandsworth-Donaldson; and one great-grandson, Jason Hollandsworth.
A Rosary will be held at 9:30 a.m. today, Wednesday, Nov. 13, at St. Mary's Catholic Church in Cottonwood followed by the funeral Mass at 10 a.m.
The family would like to thank the staff at St. Joseph's Regional Medical Center and Wedgewood Terrace for all the care, love and support they have given to Regina through these past several months.
Uhlorn Funeral Home in Cottonwood is in charge of arrangements.