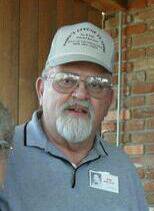 Daniel Robert Orcutt
Grangeville, ID
November 13, 2013 - October 1, 1941
Daniel Robert Orcutt passed away Nov. 13, 2013, at St. Joseph Regional Medical Center in Lewiston from complications of heart disease.
Dan was born Oct. 1, 1941, in Ontario, Ore., to Wallace and Mary Roberts Orcutt. He spent his growing up years in Payette, Idaho, graduating from Payette High School in 1960.
On June 3, 1961, he married his high school sweetheart and love of his life, Linda Fonner at the Payette First Baptist Church. They were married 52 years. To this union three children were born, son, Stan in 1962; daughters, Renea in 1966 and Mary in 1972.
Dan worked for Safeway stores in Fairbanks, Alaska; Mountain Home, Idaho, and Ontario, Ore., from 1961 to 1965. He worked as a police officer in Payette and Bellingham, Wash., from 1965 to 1968. In 1968 the family moved to Grangeville where he worked as a police officer for a year. In 1969 he went to work for the State of Idaho Department of Transportation out of Grangeville retiring in 2000 after 31 years of service. He enjoyed his work, especially plowing snow.
In his younger years he enjoyed hunting, fishing and camping with family and friends.
Dan loved his family. He especially loved his grandchildren helping them in every way he could to make things easier for them. He also loved to joke around and give them a bad time. He was a wonderful husband, dad, grandpa and brother. We will miss him.
He was a member of the Grangeville Christian Church, Mt. Idaho Lodge #9 AF&AM, and Mt. Queen Chapter 11 Order of Eastern Star.
Dan is survived by his wife, Linda at the family home; his son, Stan (Lesley) of Lewiston; his daughters, Renea (Justin) Guentzler of Bonners Ferry, Idaho, and Mary Orcutt (James Bennett) of Craigmont; his brother, Ralph (Mallory) Orcutt of Athol, Idaho; six grandchildren, Mike, Melissa, Jessica, Kyle, Kevin and Kaitlyn; two step-grandchildren, Alexis (Duane) Doramus, and Chris (Rose) Iorg; three great-grandchildren, Monique, Madison, and Zacary; three step-great-grandchildren, Alica, Jayce and Izzabel; niece, Annette; and nephew, Troy. He was preceded in death by his parents.
Services were held on Monday, Nov. 18, at Blackmer Funeral Home. Burial followed at Prairie View Cemetery.