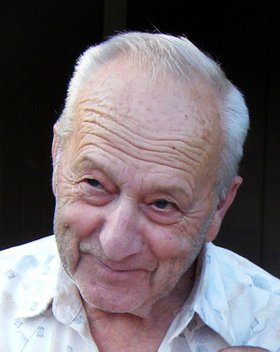 Mark Wilsey
Kamiah, Idaho
January 31, 1931 - November 8, 2013

Mark L. Wilsey, Jr., died Nov. 8, 2013, in Lewiston, Idaho, from kidney failure. He was born Jan. 31, 1931, in Winchester, Idaho, to Maymie Osborne and Mark "Mike" Lewis Wilsey, Sr. Mark lost his mother at the age of six, after which he was raised by his aunt and uncle, Marie and Levi Wilsey of Winchester, Idaho. Mark attended high school at Asotin, Wash., followed by employment with area ranches and Twin Feathers sawmill in Kamiah, Idaho. He joined the U.S. Army in December 1950. He married Elise J. Forsman on Dec. 25, 1951, at the First Methodist Church is Lewiston, Idaho. Mark and Elise have lived in Kamiah, since 1954.
While in the service, Mark received his basic training at Camp Cook, Calif. Mark served in the Armored Tank Division and earned his sergeant stripes on March 17, 1953. While in the service, Mark toured in Japan and Korea. For this he received the United Nations Service Medal, Korean Service Medal and the National Defense Service Medal. Following his honorable discharge on Dec. 24, 1953, he returned to work at Twin Feathers as a certified lumber grader in February 1954, and later at Shearer Lumber in Kooskia, Idaho.
Mark worked on the North Slope at Prudhoe Bay, Alaska, as a mechanic, then as a mechanic shop foreman from December of 1974 until his retirement in 1992. Not one to sit still, he continued to work on a cattle ranch alongside his son, Carl, in Montana. Mark was a member of the Jaycees and VFW Post 5407, both in Kamiah. Mark enjoyed bowling, hunting, fishing, camping and activities with his family.
Survivors include his wife, Elise; two sons, Eddie Lee Wilsey (Debbie), Carl Lewis Wilsey (Jane); two daughters, Tereasa J. Breeze (Danny) and Diana Lynn Wilsey Geer (Dave); and a half-brother, Danny Wilsey. Mark is also survived by his 10 grandchildren and eight great-grandchildren and his four-legged companion, Slick. He was preceded in death by his parents; his brothers, Dale E. Wilsey (Beverly) and Lee Roy Wilsey (Verla); as well as his stepbrother and wife, Gene and Patricia Autrey.
No public services are planned as per his request. Cremation has taken place. Trenary Funeral Home is assisting the family.