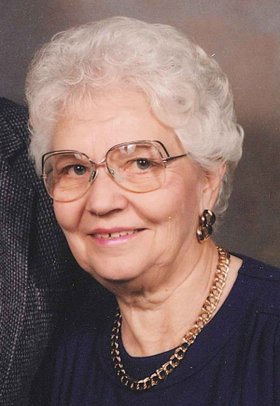 Donna J. Spencer
Cottonwood, Idaho
October 6, 1932 - November 20, 2013

On Nov. 20, 2013, Donna J. Spencer, 81, our beloved mother, grandmother and friend died at St. Mary's Hospital after a brief illness. Donna was born on Oct. 6, 1932, at Cottonwood, Idaho, to Frank and Bertha Tacke.
Donna attended Cottonwood public schools and graduated from Cottonwood High School in 1950. Following high school she attended Sacred Heart School of Nursing in Spokane, Wash., and graduated as a registered nurse in May of 1953.
On May 29, 1954, Donna married her high school sweetheart, Don Spencer. They lived in Cottonwood and were blessed with five children, the twins, Patrick and Patricia, Cheryl, Joleen and Butch. While living in Cottonwood, Donna worked briefly as a nurse until the children were born. She returned to nursing, after raising the children, as a Red Cross volunteer and for local doctors.
Donna was a charter member of the Cottonwood Jaycettes serving in many capacities. She was also a member of St. Mary's Parish, involved in building the new church nearly 40 years ago. She was a Eucharistic minister for most of her life and enjoyed making Rosaries for the missions in South Africa. Her faith and her service to the church were very important to her and serve as a wonderful example for her family.
Above all, Donna was the anchor of a farming family, living in the house that Don and Butch built on the Spencer family's home place near Fenn from 1985, until she died. Donna especially loved being with her children and grandchildren. She enjoyed camping and playing cards with family and friends. She was talented with any kind of yarn, fabric, needle and thread. The gifts she made for family and friends are heirlooms, especially her handmade slippers. Her cookies were the best – as Grandma's cookies always are.
Donna is survived by daughters, Cheryl (Ben) Britton, Joleen (Frank) Walsh; and son, Butch (Jean) Spencer; seven grandchildren, Shawn (Kristen) Britton, Jessica Walsh, Sandi Britton, Pat Walsh, Samantha Spencer, Frank Spencer and Philip Spencer; sisters, Cleora Schmidt, Bonnie Davis and Gerry Baptista. She was preceded in death by her husband, Don, of 55 years; and her children, Patrick and Patricia Spencer.
Services for Donna were held on Monday, Nov. 25, at St. Mary's Catholic Church in Cottonwood, with Rosary and the funeral Mass. The burial was held at the Cottonwood Catholic Cemetery following the service.
While her surviving children and grandchildren grieve over their loss of Donna, they are comforted by knowing that she is now with Don and the twins. She is greatly missed.
Memorials may be sent to the Shriners Children's Hospital in Spokane or St. Jude's Hospital.