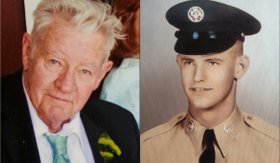 Arthur ""Bill" " W. Fifield
Grangeville, ID
unknown - October 14, 2013
Arthur W. "Bill" Fifield, 77, passed away Monday, Oct. 14, 2013, at his home in Grangeville.
Bill was born in Victor, Mont., and moved to Arizona when he was a young boy. He graduated from high school in Arizona and then entered the U.S. Air Force. Following his discharge he attended Arizona State University and graduated with a degree in engineering. He worked for Boeing and the CIA before retiring in 1986. He moved to Grangeville in 1997.
He loved fishing, hunting and sailing.
He is survived by his loving family, including his wife, Sally; his sons, Kevin and Eric; and three grandchildren. He was preceded in death by his parents and one sister.
A memorial service will be held in the spring in Victor, Mont. Family suggests memorial contributions may be made to Syringa Hospital Hospice or to the American Cancer Society. Arrangements are under the direction of the Blackmer Funeral Home, Grangeville.