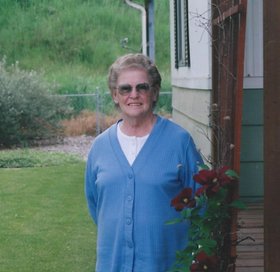 Irene B. Beck Ball Wohlsein
November 17, 1917 - October 16, 2013

Irene Beck Ball Wohlsein, 95 finished her life journey on Wednesday, Oct. 16, 2013, in Orofino.
She was born Nov. 17, 1917, in Nyssa, Ore., to William Albert Beck and Lula (Lucy) Jane Binkley. She was the second of six children. Irene grew up mostly in the Orofino and Lenore area. She was a loving mother, daughter, wife, sister and homemaker.
On Jan. 30, 1934, she married Harry R. Ball and they had two children, Betty Ball Squires and Stanley E. Ball. In 1936 her husband passed away and she was a young widow.
She then met and married Francis A. (Fran) Wohlsein on March 24, 1937. They had two sons, Francis Gerald (Jerry) and Raymond Lee Wohlsein. They lived in Orofino, Winchester and Kellogg, Idaho. In 1946 they moved to Kooskia. They owned and operated two different service stations in Kooskia where Irene was the bookkeeper.
Shortly before they sold the station they moved to their property on the Middlefork of the Clearwater River. They enjoyed many years and friends while on the river. In 1991 they moved to Kooskia to be closer to family.
She was preceded in death by husbands, Harry Ball and Francis Wohlsein; son, Jerry Wohlsein; brothers, Kenneth Beck and Robert Beck; sisters, Nadine Melbye and Lula Day.
Irene is survived by daughter, Betty (Les) Squires of Kooskia, Idaho; sons, Stanley (Joyce) Ball of Clarkston, Wash., and Raymond (Pam) Wohlsein of Kooskia, Idaho; 23 grandchildren; 78 great-grandchildren; 36 great-great-grandchildren; one brother, Austin (Dorothy) Beck of Spokane, Wash.; and many nieces and nephews.
Visitation will be from 9–11 a.m. Wednesday, Oct. 23, and the funeral service will be at 11 a.m. at Trenary Funeral Home in Kooskia. Interment will be at Tahoe Mountain Rest Cemetery. A covered dish dinner will follow at Kooskia City Hall.