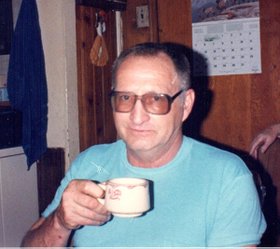 Dale " "Shorty" " Hendren
Kooskia, Idaho
May 17, 1937 - April 4, 2014
Dale "Shorty" Hendren, 76 of Kooskia, Idaho, passed away April 4, 2014, at Clearwater Health and Rehabilitation in Orofino, Idaho. He was born May 17, 1937, in Kamiah, Idaho, to Elbert and Stella Reed Hendren. He was the second youngest of 11 brothers and one sister.
From 1937 to 1952, he lived and grew up on the Selway River. He attended Pete King School located up the Lochsa and graduated in 1954. From age 15 to 18 he worked at Elk City as a choker-setter for Bill Allen. At age 18 he worked at Fenn Ranger Station as a mule packer with Tommy Reed. From 1958 to 1972 at Kooskia, he worked as a choker-setter for Dabco Logging and worked at Fenn Ranger Station. From 1972 to 1990 he lived at Weippe and Orofino working as a choker-setter and skidder operator at Headquarters, Idaho.
He married Sandy Adamson at Kooskia in 1958. Upon a divorce, he married Jean Isaacson at Kooskia in 1960. Upon a divorce, he married Linda Peterson at Orofino in 1988 whom he later divorced.
He is survived by his son, Randy Hendren of Weippe, Idaho; his daughters, Julie Hendren of Boise, Idaho, and Janet Hendren of Kentucky; his sister, Margie Steadman near Rexburg, Idaho; and eight grandchildren and eight great-grandchildren.
His parents, Elbert and Stella Hendren; daughter, Sandie Lee Hendren; son, Rex Hendren; grandson, Kelly Hendren; and his 11 brothers preceded him in death.
There will be a graveside service held today, Wednesday, April 9, at Pine Grove Cemetery in Kooskia at 11 a.m.
Pine Hills Funeral Chapel and Crematory is in care of arrangements.