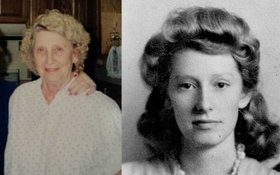 Florence May Webb
Grangeville, Idaho
January 24, 1925 - April 16, 2014

Florence May Webb, 89, of Grangeville passed away Wednesday, April 16, 2014, at the Grangeville Health and Rehab Center.
Florence was born Jan. 24, 1925, at Emmett, Idaho, a daughter of John and Cleo Officer Welburn. She attended schools in Emmett graduating from Emmett High School in 1943. She married Hobert Webb on Nov. 28, 1944, at Tacoma, Wash. Hobert was a logger and they lived in several logging towns in Idaho before moving to Grangeville in 1950. Together they ran Webb Honey Company. She had bees for more than 55 years. Hobert passed away in 1994.
She belonged to the Rebekahs and attended the Grangeville Gospel Tabernacle.
She liked to read, watch television and play bingo, but most of all she loved babies and was happiest holding one of her grandchildren, great-grandchildren or great-great-grandchild.
Florence is survived by her daughter, Norma (Stan) Moore of Lucile; and her son, Pat of Grangeville; 13 grandchildren, 22 great-grandchildren, six-and-one-half great-great-grandchildren; and two brothers, Patrick Welburn and John Welburn.
She was preceded in death by her parents; her husband; her son, Steve; two grandchildren; one great-grandchild; and one sister.
Graveside services were held Monday, April 21, at 1 p.m. at Prairie View Cemetery, Grangeville. Services were under the direction of the Blackmer Funeral Home, Grangeville. Send condolences to the family to blackmerfuneralhome.com.