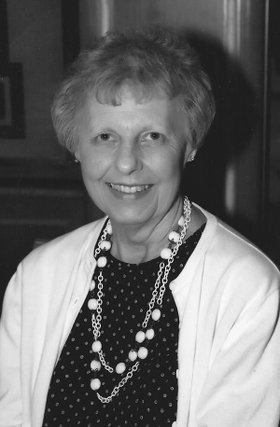 Beverly J. McDonald
Grangeville, Idaho
May 2, 1937 - April 24, 2014

Beverly J. (Rasor) McDonald, 76, longtime Grangeville resident, died April 24, 2014, from complications related to an extended battle with cancer.
Bev was born May 2, 1937, to John E. and Maxine Rasor of Boise. She grew up there with her younger brother, Ted, attending and graduating from Boise High School in 1955. She then attended the University of Idaho, pledging membership with the Gamma Phi Beta sorority. She always took great pride in her involvement with the university and the Greek system, writing many recommendations for area young women wishing to pledge Gamma Phi Beta.
It was at the University of Idaho that she met her future husband, James McDonald. They were married in 1958 and both graduated in 1959. After a brief assignment on active duty with the U.S. Army in Virginia in 1960, they moved back to Idaho to begin their lifelong involvement in farming on the McDonald family farm in Fenn. Bev taught high school for two years in Greencreek, and later was a substitute teacher for many years with Joint School District 241 in Grangeville.
In 1963 they were blessed with a son, James, Jr., and two years later with a daughter, Shari Jo. Through the years Bev was involved with many organizations and activities related to the family business, community, and her children's lives. She was an active, lifelong member of P.E.O., a Cub Scout den mother, and a 4-H leader. In addition to these, she enjoyed playing bridge, sewing, reading, playing golf, camping, gardening and cooking. Bev was a communicant of Sts. Peter and Paul Catholic Church in Grangeville.
She and Jim were able to travel extensively through his association with Idaho Grain Producers Association, Idaho Wheat Commission, and U.S. Wheat Associates. Working as trade representatives and spokespersons for Idaho agriculture, they made many friendships within the industry, around the country, and the world.
In addition to her children, Bev took great pride in and loved her two granddaughters, Sara and Kate, dearly. She also loved her great-grandson, Corbyn, and enjoyed every visit.
Bev was preceded in death by her parents, John and Maxine Rasor. She is survived by her loving husband, Jim of 55 years at the Grangeville family home; daughter, Shari McDonald of Grangeville; son, James (Mike) McDonald and Nadine of Grangeville; granddaughter, Sara Tacke and Clark of Cottonwood; great-grandson, Corbyn Tacke; and granddaughter, Kate McDonald of Grangeville; her brother, Ted Rasor and wife, Skipper of Palm Springs, Calif.
Bev has been cremated. The funeral Mass will be Wednesday, May 28, at Sts. Peter and Paul Church at 11 a.m. with a Rosary preceding at 10:30 a.m. In lieu of flowers, the family suggests donations be made in her name to the Grangeville Centennial Library. Arrangements are under the direction of Uhlorn Funeral Home of Cottonwood.