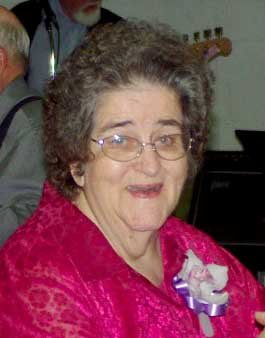 Alice "Jean" Jones
Grangeville, Idaho
January 27, 1932 - July 31, 2014

Alice "Jean" Jones, 82, passed away Thursday, July 31, 2014, at the Grangeville Health and Rehabilitation Center.
Jean was born Jan. 27, 1932, in Richfield, Idaho, to Halton and Mary Ross. She grew up in Richfield, the youngest of six and the only girl.
She married Val V. Jones, the love of her life, on May 28, 1950, in Richfield. They began their life together living and farming in Shoshone, Idaho. As time went on, they lived in several different places in Idaho, but, in 1959 settled in Lewiston. She had several jobs including being a stay-at-home mom, working at Twin City Foods and dropping bundles and filling newspaper boxes in Lewiston for the Spokane Chronicle.
In 1967, she enrolled at Lewis-Clark State College and graduated from there with a degree in elementary education. With her new degree she taught in Kooskia and White Bird while she earned a master's degree in special education from the University of Idaho. In 1977, Jean, Val and Paul moved to Stites and she taught special education in Kooskia for 17 years and retired in 1992. She was a member of the Central Idaho Quilters Guild and the Upper Clearwater River Retired Teachers Assoc. She and Val went to the dances featuring 'Just Us Band' in Clearwater, Kooskia and other locations. She was in charge of setting up the dances held in Kooskia. Jean was also active with the Elk City Wagon Road Group. Along with quilting and dancing, her other hobbies included reading, crocheting, playing pinochle, and visiting with family and friends.
She is survived by her husband of 64 years, Val, of Stites, Idaho; and her five children, Violet Eaton (Jim) of Shoshone, Idaho, Owen Jones (Mary) of Nampa, Idaho, Leonard Jones (Theresa) of Shelton, Wash., Betty Bramell (Bart) of Lewiston, Idaho, Paul Jones of Stites; nine grandchildren, seven step-grandchildren, and soon to be seven great-grandchildren. She is also survived by a brother, Hal Ross (Donna) of Shoshone, Idaho.
On Friday, Aug. 8, at 11:30 a.m. at the Prairie View Cemetery, N. Florence, Grangeville, Idaho, a burial ceremony will be held followed by a celebration of life at 2 p.m. at the Country Center, 4313 Hwy. 13, Stites. Services are under the direction of Blackmer Funeral Home.
Donations may be made to Central Idaho Quilters Guild, c/o Joyce Anderson, 125 Old Barn Lane, Kamiah, ID 83536, or to the Elk City Wagon Road Group, c/o Susanne Smith, 194 Clearwater Main St., Stites, ID 83552.