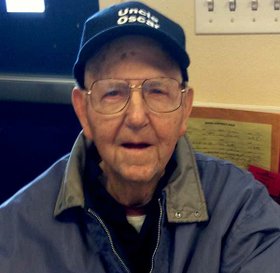 Oscar Van Campbell
Sacramento, Calif.
March 9, 1917 - January 20, 2014
Oscar Van Campbell was born March 9, 1917, and passed away Jan. 20, 2014. His wishes were that his ashes be scattered in the place he loved so much, which is the west fork of the O'Hara where the Konrads' hunting camp used to be. Oscar was an avid hunter and loved to hunt in Idaho, where he made wonderful friends and memories. His second family was the Luby and Marge Konrad family of Clearwater, Idaho. There will be a celebration of Oscar's life on Aug. 10 at 11 a.m. where he will be put to rest in the winds of the mountains. There will be a picnic to follow at the Konrad hunting camp. There will be signs going up Newsome and Bear Creek road reading "Oscar." If you would like to attend, contact Linda Konrad-Hargens at 926-4111.

Services for Oscar Van Campbell
August 10, 2014

Celebration of Life: 11 a.m.