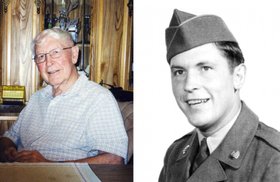 Anthony Joseph Steiger
Kennewick, Wash.
January 14, 1929 - unknown
Anthony Joseph Steiger, 85, of Kennewick, Wash., passed away peacefully at home with his wife of 54 years by his side. Before moving to Kennewick in 2011, Anthony and Kay lived in Las Vegas, Nev., for 27 years after his retirement from Shell Oil/Royal Dutch.
Anthony was born Jan. 14, 1929, in Ferdinand. Idaho. He served in the U.S. Army from 1950-1952. He was stationed in Mercury, Nev., and was part of the historic aboveground nuclear testing at the Nevada Test Site. After his honorable discharge, he attended the University of Idaho on the GI Bill, graduating with a bachelor of science in business degree. Anthony's career began in Ventura, Calif., in 1957 with Shell Oil Co. His career took him and his family to Concord, Calif., and Houston, Texas.
Known to family and friends as "Tony," he was a man who found great comfort in his faith in God. Tony lived his entire life putting others before himself. He is survived by his wife, Kay; daughter, Ellen Scott (Bryan); and son, Paul Steiger (Christine), all of Kennewick, Wash.; four grandchildren and four great-grandchildren; and numerous nieces and nephews.
He was preceded in death by his father and mother, Paul and Clara Steiger; brothers, Richard of Kamiah, Idaho, Robert of Lompoc, Calif., and Henry of Ferdinand, Idaho.
A funeral Mass was celebrated at St Joseph's Catholic Church in Kennewick on Aug. 4. Anthony's burial will take place at Santa Clara Catholic Cemetery in Oxnard, Calif.