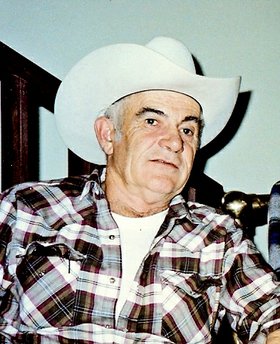 John Francis Groom
June 30, 1933 - August 10, 2014
John Francis
Groom, 81
Grangeville, Idaho
John Francis Groom, 81, of Grangeville, Idaho, passed away on Sunday, Aug. 10, 2014, at Saint Mary's Hospital in Cottonwood surrounded by his family and friends.
He was born on June 30, 1933, to Arthur and Katherine (Oliver) Groom in Cottonwood, Idaho. He was raised on the family farm and ranch in the Dewey Saddle area of the Old Harpster Grade. He attended the Delaney School, a one-room schoolhouse and then Grangeville schools, graduating from Grangeville High School in 1952.
John married Flora Jane Heter in 1953. Their marriage was blessed with five children, Brit (Sara), Theasa (Vern Snyder), Penny (Willard Stuivenga), Rob (Teresa) and Susie (Dion Heckman). They were later divorced.
John married Lillian Peterson in 1975 and also became a part of her children's lives — Dale, Doug, Darrell, Marcella (Curt Kammeyer), Yvonne (Mike Conklin), and Vicki (Jack Armstrong).
John took over the family farm and ranch upon graduating from high school. During lean agricultural years he ran a wholesale meat business and also owned a small trucking company. Even though the family was traditionally farmers, John loved livestock. He was an old-fashioned cowboy — riding horses to work with the cattle. He enjoyed going to the Cottonwood Sales Yard, working at times in the ring. He held an extra passion for horses, raising them and also enjoying a good horse trade. John enjoyed attending the Grangeville Border Days rodeos and was proud to have won the last Ray Holes saddle (made by Jerry Holes) to be raffled at Grangeville Border Days. Mostly, John loved family gatherings and was greatly amused by the young kids. John was much loved and will be missed by his family and his many friends.
John is survived by his loving wife, Lillian; his five children; five of his stepchildren; a sister, Carol (Dan Bearden); 32 grandchildren and 63 great-grandchildren. He was preceded in death by his parents; a sister, Jean Groom; a stepson, Darrell Peterson; a son-in-law, Vern Snyder; and three infant great-grandchildren.
Services will be at Saints Peter and Paul Catholic Church in Grangeville. The Rosary will be Friday, Aug. 15 at 7 p.m. and the funeral Mass will be Saturday, Aug. 16, at 1 p.m. with internment to follow at the Prairie View Cemetery. Please join the family for a farewell fellowship at the Grangeville Country Club afterwards. A visitation will be held on Friday, Aug. 15, from 2-4 p.m. at Blackmer Funeral Home, Grangeville, and on Saturday, Aug. 16, from 9-11 a.m. also at Blackmer Funeral Home, Grangeville.
Memorials in John's memory may be given to Saints Peter and Paul School or the Saint Mary's Hospital Foundation.