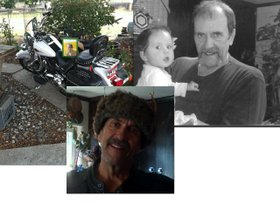 Alvin Michael Marsh
Grangeville, Idaho
August 31, 1953 - August 7, 2014
Alvin Michael
Marsh, 60
Grangeville, Idaho
Alvin Michael Marsh of Grangeville, Idaho, passed away suddenly Aug. 7, 2014. He was born Aug. 31, 1953, to Harvey and Audrey Marsh in Grand Rapids, Minn. He graduated from Deer Creek High School in 1972. He married Lucy Evans on Dec. 30, 1988. He was the proud father of son, Michael; daughter, Miranda; daughter, Christy Renne; and stepson, Jason Wiese.
His lifelong career was driving truck for Mercer Trucking out of Spokane, Wash. He enjoyed riding his Harley, spending time with his family and friends, but his greatest joy was spending time with his granddaughter, Maddie.
He was preceded in death by his father, Harvey; sister, Joyce; and stepson, Jason Wiese. He is survived by his mother, Audrey Marsh of Maplewood, Minn.; his children, Michael and Miranda Marsh of Grangeville, Idaho; Christy (Shane) Renne of Billings, Mont.; grandchildren, Madison Ross of Grangeville, Idaho, Colter, Caitlin and Courtney Renne, of Billings, Mont.; siblings Wayne (Vicki) Marsh of Florence, Ariz.; Nancy (Ray) Vaughan of Henning, Minn.; Leroy (Carol) Marsh of Noonan, N.D.; Wally (Cindy) Marsh of Battle Lake, Minn.; Marian Depontes of Maplewood, Minn.; Susan Marsh-Ruppert of Sauk Centre, Minn.; several nieces, nephews, cousins, extended family including Bethany (Wiese) Saunders of Fergus Falls, Minn.; and special friend and companion, Beatrice Shatto of Grangeville, Idaho.
There was a celebration of life on Aug. 11, 2014, in Grangeville, and one will be held in Minnesota with date and time to be announced later.