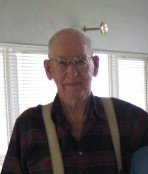 Russell Edward Simler
April 17, 1925 - August 12, 2014
Russell Edward
Simler, 89
Kamiah, Idaho
Russell Edward Simler, 89, a lifelong resident of Idaho County, passed away Aug. 12, 2014. He was a very loved soul by his family and friends.
He began his life at Woodland, Idaho, where he spent his childhood and early adult life. He had many fond memories of roaming the hills and river breaks with his dog and .22 rifle. He was born to Edward Simler and Mildred Sanders Simler, April 17, 1925, both children of homesteaders to the Woodland area. His parents farmed at Woodland before his father's death in a farming accident. His mother then raised Russell and his brother, Richard, at the Woodland Store where she was both proprietor and postmistress. Russell left Woodland to serve in the U.S. Army, enlisting in 1945 and serving in Germany in 1946.
Upon completing his military service he returned to the Woodland area, working in the forest industry. Russell married Ruth Lacey, March 18, 1950, and they began their married life together farming at Woodland. They later moved to Kamiah where he worked in the logging industry.
Russell was most at home in the outdoors. He shared that love with his family, engaging his children, in gardening, hunting, fishing, firewood cutting and other life skills that have served his children well. Having lived through the depression, Russell was both self-reliant and self-sufficient. He enjoyed tinkering, and he had the talent and skill to create and improvise when the situation called for it.
The surviving family includes daughter, Elizabeth Fil, Kuna, Idaho; daughter, Mary Jo (Terry) Sexton, Idaho City, Idaho; son, Douglas Simler, Walla Walla, Wash.; daughter, Ann (John) Warofka, Kooskia, Idaho; and son, John Simler, Seattle, Wash.; his brother, Richard (Zetta) Simler; nephew, Ed Simler (Jo) Kamiah, Idaho; niece, LaDean (Marvin) Evans, Battleground, Wash.; grandchildren, Nikki Schneider, Eric Fil, Todd Sexton and Lindsey Simler. He was preceded in death by his wife, Ruth Simler, and grandson, Jesse Sexton.
No memorial service is planned at this time. A gathering for family and friends to share time and memories together will be at a later date. Trenary Funeral Home of Kooskia is assisting the family.