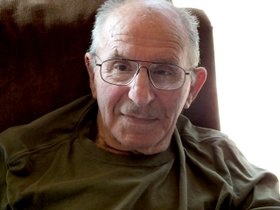 Arthur L. Glover
Kooskia, Idaho
February 18, 1932 - August 16, 2014

Our beloved father and husband, Arthur L. Glover, 82, passed away quietly in his sleep on Aug. 16, 2014. He was a long-time resident of Kooskia, Idaho.
He was born on Feb. 18, 1932, to Phillip and Irene Glover in Saskatchewan, Canada. The family was wintering in Canada looking for work during the depression. They ended up in Idaho County that spring and stayed to raise the kids in this wonderful country.
Art was next to the youngest of six children: Alta Foster, Anna Robinette, Mansell (Bud) Glover, Leona Glover and Lucille Wilson. His parents and all of his siblings except Alta preceded him in death. She currently resides in Oregon.
In 1953 he made it to Korea just in time to help with the mopping up after the signing of the armistice agreement.
He married his wife of 52 years, Sandra Lee (Smith) Glover, in 1962. They had four children in the next six years: Dawn (Gene) Randall of Grangeville, Idaho; Richard (Chris) Glover of Grandview, Idaho; Arthur D.F. (Sonnet) Glover of Coeur d'Alene, Idaho; and Shane (Tracy) Glover of Grangeville, Idaho. He also leaves behind numerous nieces, nephews, grandchildren, step-grandchildren, great-grandchildren, step-great-grandchildren and children of the heart that was influenced by him throughout his life.
Dad made his living as a logger and small time rancher. But his real "vocation" in life was teaching us kids how to live a wonderful and fulfilling life. We grew up on a mountain top away from town with the national forest as our playground. We had 10 head of horses to play with as long as chores were done. Dad taught us to work hard also. There were cows that needed milking, chickens that needed fed, gardens that needed tending and hunting, canning, berry picking, etc., that needed done to support our family.
But it wasn't always work and no play. Dad taught us how to fish, hunt and have fun. Some summers we went horse camping into the wilderness. Dad taught us all the skills for these things, but more important he taught us appreciation for the history and magic of our home state. He was a treasure and will be sorely missed.
A gathering of family and friends is planned for Saturday, Oct. 4, at the Glover home on Crane Hill. You're all welcome to come and share memories of Art.