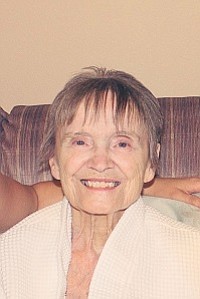 Evelyn Dale Cash Riener
Bend, Oregon
unknown - unknown
Evelyn Dale Cash Riener passed away peacefully Nov. 30, 2014, at the home of her daughter, Kathy Dice, in Bend, Ore., with her husband, Andy, at her side. She faced the diagnosis of Alzheimer's with courage. Even though Alzheimer's had taken her memory, and her ability to speak, she would smile when she looked at the faces of her family, especially her great-granddaughter, Malia.
Evelyn was born July 31, 1925, the 10th of 12 children of John Adam Cash and Eva Allene (Smith) Cash, at their home south of Grangeville. She married Andy Riener April 10, 1943, while he was home on leave from the U.S. Army. Their first homes as a married couple were in Colton, Calif., and Lompoc, Calif., while Andy was stationed there between deployments to Hawaii and Europe. When Andy shipped out to Europe, Evelyn returned to Grangeville, where she gave birth (prematurely) to Mike, in January, 1945. As soon as they removed Mike from the oxygen tent, she took him home to the house that she and Andy have called home ever since. She and Andy spent several years off-and-on in Bend after their retirement in 1982, helping to care for their granddaughters, Sara and Micah, but then returned to their Grangeville home.
Evelyn was devoted to her family, working hard to create a loving and stable home for her children. She often worked night shifts at the hospital or nursing home when her children were young, so that she could be at home during the day. She and Andy planned and saved in order to take their children to Yosemite, Washington DC, New York, the Grand Canyon, Yellowstone, and many other natural and man-made wonders, instilling in us an appreciation of our nation, and a desire to travel. While living in Bend, she had a major role in raising her granddaughters.
Evelyn was passionate in her belief that higher education was the gateway to a rewarding life. She graduated from Grangeville High School a year early, having skipped a year of primary school. She instilled in her children the desire to go to college, and was very proud that her kids all graduated from the University of Idaho. She earned her Licensed Practical Nurse Diploma through Lewis-Clark State College, while Mike and Ken were at the U of I, and Kathy was in high school.
Throughout her adult years, she balanced her careers as homemaker and nurse, working at Grangeville General Hospital (now Syringa Hospital), Idaho County Nursing Home (now part of the Syringa Hospital campus), Mountain View Nursing Home (now Grangeville Health and Rehabilitation Center), and in the offices of local physicians Drs. Soltman, Cone and Wiltse.
Evelyn is survived by her husband of 71 years, Andy; daughter, Kathy Dice, in Bend; sons, Mike in Houston, Texas, Ken (and wife Judy) in San Luis Obispo, Calif.; former daughter-in-law, Patti Benson in Houston, and former son-in-law, Dennis Dice in Bend; granddaughters, Andrea (Arie) Riener Perry, in San Francisco, Calif., Sara (Ruben) Dice Rouw, in Parkland County, Alberta, Canada, and Micah (Eric) Dice Campbell in Bend; grandson, David (Valerie) Riener in Irvine, Calif.; step-granddaughter, Traci (Bill) Devor of San Luis Obispo; step-grandsons Jeff (Summer) Long of Nipomo, Calif., and Steve Long of Rancho Cordova, Calif.; and eight great-grandchildren, Clay Riener in Irvine, Calif., Marshall and Malia Campbell in Bend, Forest Rouw in Parkland County, Alberta, Tommy DeVor in Laramie, Wyo., Jacob DeVor in San Luis Obispo, Calif., and Hunter and Madison Long in Nipomo, Calif.; also many nieces and nephews and their families. She was preceded in death by her parents, her sisters, Viola (Brown), Nellie (Warden), Beulah (MacArthur) and Beth (Vanderwall); and her brothers, Vernie, Keith, Vance, Joe, James, Dave and Gordon. She and Andy also lost an infant daughter, our beloved Barbara, to pneumonia in 1953.
A viewing will be held on Thursday, Dec. 4, from 4-8 p.m. at Blackmer Funeral Home, Grangeville. A Rosary will be held on Friday, Dec. 5, at 10:30 a.m. followed by a Mass at 11 a.m. both at Sts. Peter and Paul Catholic Church in Grangeville. Burial will follow at Prairie View Cemetery, Grangeville. Family requests that donations be made to Syringa Hospital Foundation, or Syringa Hospice, 607 W. Main St., Grangeville, ID 83530. Send condolences to the family to Blackmerfuneralhome.com.