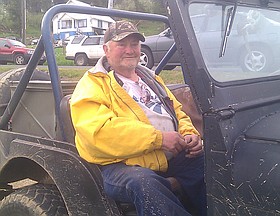 Ralph Otto Crocker
Elk City, Idaho
unknown - unknown

Ralph Otto Crocker, 68, died Nov. 23, 2014, at his home in Elk City, Idaho. He was born May 29, 1946, at Red Fir near Kooskia, Idaho, the youngest child of Russell Marshall and Margaret Lucile (Feight) Crocker. He grew up on the Tahoe Ridge area, near Kooskia, Idaho, and then spent part of his school years in California with his grandparents. He came back to Idaho and went to work for Shearer Lumber Company in Elk City before he was 18, and worked there his entire adult life until he had to take a medical retirement.
He married Jennifer Thompson and later divorced.
He enjoyed hunting, fishing, camping, snowmobiling and four-wheeling.
He is survived by his older sisters; Marlene Creutzberg of Grangeville, Lucile Kay Alfrey of Lapwai; and many nieces, nephews and cousins.
He was preceded in death by his parents, Russell and Lucile Crocker; his older brothers, Marvin R. Crocker and Marshall Eugene (Bud) Crocker; and his infant son.
No services are planned at this time. There will be a memorial at a later date. Trenary Funeral Home of Kooskia, Idaho, assisted the family.